Restaurants in Worcester
---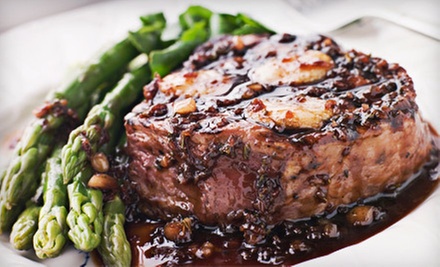 ---
Recommended Restaurants by Groupon Customers
---
The grill masters at Caminito Argentinean Steakhouse stay true to their culinary roots with a distinctly South American cooking tradition, which begins with hormone-free meat from cows that were fed a vegetable-only diet and raised on pastures instead of in cages. Manning a cast-iron grill stoked by locally sourced hardwoods, the expert chefs fire-kiss select cuts of beef to smoky perfection, infusing filet mignons, skirt steaks, and short ribs with rustic flavors that pair harmoniously with the restaurant's robust selection of Argentinean red wines.
Although Caminito's wood-fired steaks have earned it the Valley Advocate's award for Best Steak House from 2010 through 2012, the menu proves that the restaurant does not live and die by expertly charred beef. Lobster-filled ravioli, pan-seared salmon, and seasoned chicken breasts showcase the kitchen team's culinary repertoire, in addition to vegetarian entrees that aren't just snapshots of steak printed on soy paper. Refreshing sips of ale from Peak Organic Brewing Company complement hearty bites, and spoonfuls of flan and mousse bring meals to their bittersweet conclusion. On weekends, the acoustic strumming of guitarists Alvaro Olvera Sanchez and Jeremy Milligan nourish famished ears with flamenco notes and classic Spanish songs.
7 Old South St.
Northampton
Massachusetts
Within Hana Japanese Steak House and Sushi Bar, groups can watch hibachi chefs add dollops of teriyaki sauce to chicken and veggies on the grill in front of them. As flames rise over the tableside grill, the air fills with meaty aromas and applause from diners watching chefs' virtuoso performances. Dishes include crispy duck with chili sauce, traditional udon noodles, and 11 house-specialty rolls filled with eel, lobster, and other ingredients sourced from the ocean's teriyaki-filled depths.
874 Lakewood Rd.
Waterbury
Connecticut
203-756-4262
Owner Randy Price curates a creative menu of New Haven–style "apizza" in more than 30 styles. His team crafts fresh dough daily using unbleached flour, creates sauce from handpicked Italian and Chilean tomatoes, and sprinkles pies with cheese from home-schooled cows. The famous Challenger—a 22-inch pizza stuffed with a mélange of vegetables and meats that weigh in at nearly 10 pounds—presents the hungriest visitors with a challenge to conquer the hot wheel in an hour or less, a feat that has earned a place on the Travel Channel's Man Vs. Food roster of surmounted food battles.
1232 Storrs Rd.
Storrs
Connecticut
860-487-9662
---
---
Restaurant Deals - Recently Expired
---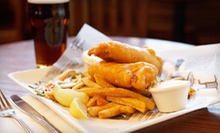 Beer, whiskey, and bourbon complement hearty eats such as soft pretzels, jumbo chicken wings, and double-decker burgers
---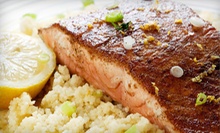 Revamped American dishes include bacon-wrapped meatloaf and mac 'n' cheese with bacon, chicken, and blue cheese
---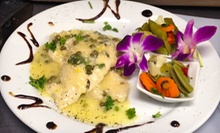 Chefs prepare three-course Italian meals, complimented by stunning views of Mt. Hope and Narragansett Bay
---
---