Tours in Worth
---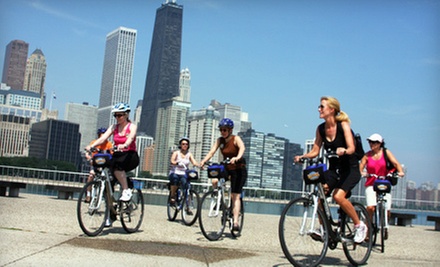 ---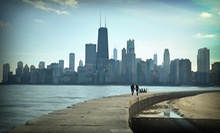 Savvy guides highlight the Loop's attractions using old photos, film clips & imaginative descriptions of Chicago's past & present.
Use Saturday 7:00am - 10:00am
---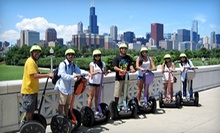 Segways roll past Chicago's famed sites such as Soldier Field, Buckingham Fountain, and Grant Park
Use Today 8:30am - 2:30pm
---
Recommended Tours by Groupon Customers
---
The future has arrived and it's gliding in at a comfortable 6.5 mph. Introducing the Segway, a brand-new transportation device that was publicly released in 2002. Streets, sidewalks, and sidewalk cafes will soon be blessed with the presence of these two-wheel wonders, forever altering human life. Picture this: you need a wide-brimmed western hat to wear to Cowboy Formal 2009: Git Yer Grind On, but your calves hurt from morning calisthenics. Hopeless? Not with a Segway.
350 E Monroe St.
Chicago
Illinois
US
With a ticket to the opening weekend, you'll get first access to The Sinkhole, the newest hauntsperience provided by Chronicles of the Cursed. This panic-fueled jamboree is the demented brain-baby of Nightmares Inc., a production company responsible for the Dream Reapers haunted house in Melrose Park, one of the top haunted houses in Illinois. Journey into Chicago's most offensive pothole and traverse through the underground gauntlet of nightmarish sewer-beings who don't fight crime and enjoy pizza.
560 W Grand Ave
Chicago
Illinois
US
Chicago Hauntings' "ghost bus" whisks passengers away on interactive trips to the second city's spookiest locales. Founder Ursula Bielski and her crew of paranormal researchers split their signature tours between historical yarns on the bus and time exploring supernaturally active sites on foot. The rotating itinerary of stops includes the site of the Saint Valentine's Day Massacre, the location of the Fort Dearborn Massacre, and the spot where Resurrection Mary met her fateful end.
Along with her primary routes, Ursula leads specialty tours including daytime trips based on The Devil in the White City, Erik Larson's bestseller about serial killer H. H. Holmes, and strolls down one Chinatown block where every building is allegedly haunted. She also hosts private tours, pub crawls, and kid-friendly excursions during which youngsters hear toned-down tales and learn about ghost-hunting equipment more advanced than their dog Sherlock.
600 N Clark St.
Chicago
Illinois
888-446-7891
The Chicago branch of Gray Line's global sightseeing operation organizes a wide variety of tours and excursions throughout the Windy City, from architectural tours that send passengers coasting on the river and lake for sun-drenched educational cruises to shopping odysseys at Chicago Premium Outlets, where travelers can zip through more than 100 stores and restaurants after being shuttled to the retail utopia. Blues outings treat music lovers to raw licks, soul food, and real tears at celebrated concert venues such as Buddy Guy's Legends and Rosa's Lounge.
Gray Line's cherry-red trolleys transport visitors and residents alike to famous Chicago sites. Just north of the river, the vehicles idle before the Wrigley Building's sparkling white terra cotta façade, which in the 1920s stood as the first major skyscraper outside of The Loop. From there, the trolley may motor north to the John Hancock Center, where elevators to its observatory sweep guests 96 floors in 39 seconds. The trolley could also steer south to the Willis Tower, which lost its maiden name of Sears after being charmed by a passing cumulus cloud.
Chestnut and Michigan
Chicago
Illinois
Slice of Chicago Pizza Tours takes a novel approach to acquainting visitors and locals alike with the region's famous cuisine. Over the course of two hours, the team escorts pizza lovers throughout River North in search of delectable, cheesy morsels on a history-filled tour of three of the city's most iconic pizzerias. The tour, which caters to all ages, leaves guests sated but not stuffed as they sample the various crusts, sauces, and toppings that formulate Chicago's most famous food and second most popular raffle prize.
29 E Ohio St.
Chicago
Illinois
312-623-9292
Six Taste co-owner Jeff Okita succinctly described his TripAdvisor Top 10 Pick tours to the Daily Trojan in 2011, calling them "a way for people to connect to different communities through an accessible medium, which is food." During four-hour excursions, in-the-know guides walk with fellow explorers through iconic Los Angeles–area neighborhoods—including Little Tokyo and the heart of downtown—stopping into gems to sample the eatery's cuisine and learn about the area. This cultural education is paramount for Jeff, who told the Christian Science Monitor in 2010 that "we choose the restaurants based on their story and what they add to the understanding of a neighborhood, its people and its history."
Guides currently lead more than 15 tours a week through eight different neighborhoods, with most tours meeting between 9:30 a.m. and 3 p.m. on Saturday and Sunday. In addition to the regularly scheduled excursions, the staff also leads specialty outings that focus on more adventurous cuisines, including intensely spicy dishes in Thai Town and lost seafood recipes in Atlantis.
600 W Chicago Ave.
Chicago
Illinois
---