Coffee & Treats in Worthington
---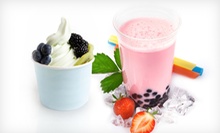 10 rotating flavors of frozen yogurt rest under 60 different toppings; guests slurp up tapioca balls in flavored bubble teas
---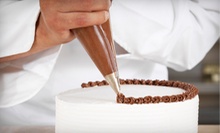 Instructors impart cake-decorating techniques to students in time for holiday dessert-making
---
Recommended Coffee & Treats by Groupon Customers
---
Though fourth-generation dairy farmer Jim King and his wife, Angel, craft the artisanal cheeses at Blue Jacket Dairy, it's fair to say that the creamery is a fifth-generation family business. The youngest members of the King clan are already hard at work sticking labels on finished wedges of cheddar, quark, and mozzarella, as well as learning to communicate with cows through telepathy. The King family uses small-scale equipment to produce both fresh and aged cheeses, including its signature Gretna Grilling—a semisoft, halloumi-style cheese made with pasteurized whole milk. In addition to chevre, mozzarella, and feta cheeses, Blue Jacket's team makes small batches of fresh, unaged cheddar curds, which it prepares plain or flavored with dill, chipotle, garlic, or ranch.
1434 County Rd. 11
Bellefontaine
Ohio
A science lab calls to mind test tubes, bubbling flasks of chemicals, maniacally laughing men in white coats—but rarely ice cream. But that's exactly where Curt Jones, chairman and founder of Dippin' Dots, came upon the inspiration for the tiny flash-frozen beads of ice cream. A microbiologist, Jones spearheaded the flash-freezing process of cryogenic encapsulation, a method capable of trapping flavor and freshness.
Beginning as a retail shop in Lexington, Kentucky, the ice cream quickly began to quell the tantrums of Fortune 500 CEOs all over the country. Having won numerous awards since he created a new way to enjoy an old treat, Jones stays true to Dippin' Dots' roots, making the ice cream at the company headquarters in Paducah, Kentucky. New additions to the Dippin' Dots family include Dots 'n Cream, a treat similar to traditional ice cream.
5043 Tuttle Crossing Blvd.
Dublin
Ohio
Inlaid between bright-green tiles, Matcha Frozen Yogurt's self-serve banks pour out 10 frozen-yogurt flavors from a list that includes gluten-free, sugar-free, nonfat, and nondairy options. The independent shop's flavors rotate periodically, filling 16-ounce cups with everything from classic alpine vanilla to new york cheesecake and hawaiian pineapple, all of which are certified kosher and contain digestion-aiding live natural yogurt cultures. More than 60 toppings, including fresh fruit, coconut jelly, and mochi, dance atop frosty surfaces like Olympic figure skaters covered in fire ants, and each hefty helping is priced by the ounce.
Inside, white folding chairs surround matching white tables that rest between tangerine and lime-green walls. Sunlight pours through Matcha's large storefront window, gently warming patrons, illuminating glistening, fresh toppings, and melting the arms off of Venus de Milo yogurt sculptures.
1462 Bethel Rd.
Columbus
Ohio
614-564-9154
At Frosted Conspiracy Cupcakes & More, cupcake chefs whip up intriguingly delicious products in just about any flavor and form. Bakers concoct decadent chocolate, lemon, and strawberry cake in the traditional cupcake size, or up the ante with jumbo and giant cupcakes for hearty appetites or Honey, I Shrunk the Kids costume parties. Sultry adult cupcakes, such as peach bellini and sangria, pack an alcoholic punch without the buzz, making them the perfect treats to stock the shop's cupcake bars, which customers can order for parties and events.
4140 Linden Ave.
Dayton
Ohio
US
937-429-5106
The Inside Scoop's ice cream-concocters sate dairy-craving palates by packing more than 20 flavors of Hershey's ice cream into crunchy cones and drenching each bite in more than a dozen available classic toppings. Specialty sundaes coat scoops in luscious ingredients such as hot fudge and pecans, while hot dogs, hot beverages, or steaming winter soups high-five insides to transfer their warmth. The Inside Scoop also boasts a party room that comes alive under the reflections of its 55" TV that can be used as a hook-up for computers during meetings, to display slideshows at parties, or for movie viewing while enjoying the shop's hot and cold delectables.
1084 Kauffman Ave.
Fairborn
Ohio
Catering to dessert-starved people of all lifestyles, the dessert crafters at Josie's Yogurt create mouthwatering flavors with health-conscious ingredients. Using pure crystalline fructose, a fruit-based sugar with a low glycemic index, allows the sweets stirrers to tempt palates without using traditional sugar, high-fructose corn syrup, cookbook cutouts of turkeys, or other unhealthful additives. Josie's offers many flavors that rotate through stores in groups of 12; Georgia peach swirls into cups with the ease of a southern drawl, and chocolate mousse allows customers to savor the pleasure of sampling a rich dessert without the guilt of having to steal the dessert cart. Regular, low-calorie, and sugar- and lactose-free options regularly dot the menu, filling bowls before being covered with selections from the 36 topping options and five sauces.
121 Westerville Plaza
Westerville
Ohio
614-392-4004
---