Education & Classes in Worthington
---
Education & Classes Deals
---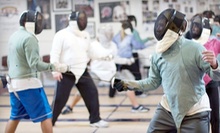 Fencing fundamentals taught in four group classes help students progress to intermediate instruction
---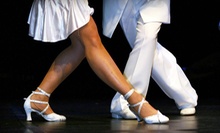 Instructors lead pairs or singles in 21 styles, including salsa, polka, the country two-step, the mambo, and tango; themed practice party
---
Recommended Education & Classes by Groupon Customers
---
At Salsa by Todd, veteran instructor Todd the Salsa Guy leads patrons through sultry steps as they build their fitness abilities and hone their Latin-dance techniques. During weekly group salsa classes, students pair up to master beginner- and intermediate-level routines replete with hip swiveling, partnered twirls, and choreographed piggyback rides. Todd's private lessons reveal the secrets of salsa and Latin styles such as bachata and merengue, accelerating the learning process with personalized attention. Neither class style requires previous dance experience, and the studio welcomes students who arrive solo, in dancing duos, or backed up by a posse of imaginary friends.
310 S Hamilton Rd.
Columbus
Ohio
614-774-8146
With more than 30 years of combined experience and numerous competition wins, Rachel and Adam Maynard of Inspiration to Movement lead students in dance and Pilates classes. A sprung floor acts as the stage for classes such as Vaganova ballet—a Russian method developed esteemed dancer Agrippina Vaganova and beta-tested by thousands of music-box ballerinas. The Pilates studio peers over Franklin Park, providing a scenic location for cultivating strength, flexibility, and balance. The dancing partners also offer music-editing services for dance performances, and perform themselves for special functions.
1676 E Broad St.
Columbus
Ohio
614-253-6683
Lifelong dancer Leyla Soleil stumbled upon her first belly-dancing class while living in Miami in 2001, and, as she describes it, "everything just clicked." The high-impact dances she'd previously enjoyed, such as ballet and jazz, were proving increasingly hard on her joints, and with a new child thrown into the mix, Leyla was searching for a new way to express herself physically. After that first class, she grew passionate about belly dance and its ability to build a bridge between cultures. Later living in Akron, she built a thriving studio and dance company—Dance du Soleil—before moving her family to Columbus. Now, when she's not teaching classes at her new studio, Leyla juggles performing, starting a dance-photography business with her husband, and keeping involved in her Akron endeavors.
In her accessible, beginner belly-dancing classes, Leyla teaches fundamental moves that build a strong abdominal core, enable women to embrace their feminine side, and unravel the mystique around the dance form. Part of her philosophy on dance includes its health benefits, as evidenced by one of her former students—a woman who struggled with beginner moves but lost weight and decreased her health problems as she progressed to an advanced level. Middle Eastern music energizes each movement during Leyla's studio sessions, and she often announces each song's country of origin to illuminate the cultural beauty inherent in the songs.
5953 E Main St.
Columbus
Ohio
330-734-8280
The nonprofit New Flyers Association empowers student aviators to improve their soaring skills under the tutelage of certified flight instructors. Whether taking off for the first time on an introductory flight or logging hours in pursuit of a Sport Pilot license, pupils experience the freedom of winged travel aboard such flying machines as a Flight Design CTLS or Piper Cherokee. The association makes its nest in hangar A-10 at The Ohio State University's Don Scott Airport, a general aviation airport that allows students to learn fundamentals in a professional environment that's safer than jumping from the top bunk bed.
2160 W Case Rd., Suite 9, Hangar A-10
Columbus
Ohio
614-459-1335
Instructor led speed reading courses in Columbus for teens and adults and reading management programs for corporations and the military nationwide which dramatically increase speed and comprehension that include strategies for all kinds of reading materials including mastery of textbooks and technical documents.
1826 Glenn Avenue
Columbus
Ohio
614-486-2473
Spearheaded by Julia Richey, a former member of the Russian National Team, the crew of coaches at Royal Arts Fencing Academy teaches fencers of all experience levels the secrets of centuries-old sword techniques and traditions. New students can enroll in four group classes, learning the fundamentals that will guide them during subsequent intermediate lessons. They can also brush up on their blade knowledge during summer camps that cover the Olympic sport weapons of foil, épée, and saber. Visions of Olympic glory also dance throughout the academy's annual Arnold Fencing Classic, a part of the Arnold Classic and one of the largest independently run fencing tournaments in the nation.
5770 Westbourne Ave.
Columbus
Ohio
614-330-2445
---