Things to Do in Wrentham
---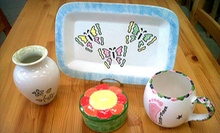 Use Sunday 12:00pm - 5:00pm
---
Recommended Things to Do by Groupon Customers
---
Saba Alhadi was visiting her retired father when she received the phone call. A man on the other end, with a British accent, informed her he'd seen her photos of the city of Boston. He worked with Random House and wanted to publish her work—provided she write a book about the city and furnish it with her photographs of 16 historic sites. More than five years later, Saba's book, Boston in Photographs can be found on gift-shop shelves in the Old State House. Formerly a travel agent, she began building her portfolio as she turned her lens on the city and developed photography walking tours through historic neighborhoods.
On each of her tours, she reveals historic details such as brick sidewalks, verdant cemeteries, Romanesque courtyards, and flower-packed window boxes, and encourages those on her tour to look for unlikely subjects. Meanwhile, she interlaces the history with photo tips on how colors on different buildings complement each other, how a reflection of a historic church in a window can become a composition, and how to keep a historic interpreter from startling when the shutter goes off. She also devises scavenger hunts throughout Victorian neighborhoods, sending participants scattering to decode cryptic clues that draw on notable local facts, such as which districts were once home to wealthy citizens and which homes have pools in the backyard.
3 Village Way
Natick
Massachusetts
617-851-2273
Working alongside her husband Joe, Horseplay Stables co-owner Terry Hoy draws upon her more than 25 years of equestrian riding and training to help students realize their full riding potential. The pair also relies on help from an extensive team of licensed instructors and volunteers. At Horseplay Stables, students can master the basics of several horseback-riding styles, including huntseat, jumping, classical dressage, or western pleasure.
704 Randolph Avenue
Milton
Massachusetts
774-406-7248
At the center of The Water Hazard Mini Golf's three-acre course, a 35-foot geyser erupts, knocking away incoming golf balls and sprinkling sun-baked putters with a refreshing mist. The expansive course owes many of its obstacles to the natural layout of the Holliston landscape. Flourishing bushes sit between holes and three large ponds break up the terrain while giving golfers glimpses of the sunbathing turtles and soft-shoeing frogs dotting its banks. A waterfall system nearly 500 feet in length also meanders throughout the property. Rolling hills, ridges, and a grand 120-foot slope also challenge golfers. The Water Hazard Mini Golf also features a full-service concession stand, which serves hot dogs, hamburgers, and homemade ice cream from Bliss Dairy.
750 Concord St.
Holiston
Massachusetts
508-740-0014
Fore Kicks Golf Course & Sports Complex orchestrates year-round golf practice with a nine-hole, par 3 course and an outdoor putting green. At night, light fixtures bathe the outdoor course in ample light for golfers to test their short-game skills at holes ranging from 80 to 160 yards. With a total length of 150 feet, the high-ceilinged range provides enough space for players to gauge the trajectory of each wedge, iron, and wood. The driving range uses new Top-Flite practice balls that provide club heads with a spherical target and occasionally hatch edible divot tools. An onsite pro shop and concession booth can give sought-after 9-irons an owner and replenish weary golfers after their practice session. The sports complex engineers active fun with programs for indoor laser tag, soccer, lacrosse, field hockey, and other sports.
10 Pine St.
Norfolk
Massachusetts
508-384-4433
---