Education & Classes in Wyandanch
---
Education & Classes Deals
---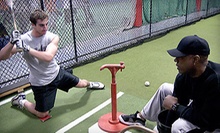 Within 33,000 sq. ft. training facility, players batter balls hurled between 35–80 m.p.h. by mechanical pitchers with adjustable height
Use Monday 12:00pm - 10:00pm
---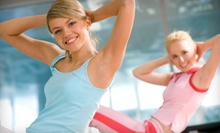 Patrons access treadmills, elliptical trainers, and other cardio equipment as well as free weights and Life Fitness machines
Use Today 6:00am - 8:00pm
---
Recommended Education & Classes by Groupon Customers
---
Built in 1883, the 40-foot oyster sloop Christeen proves that cats aren't the only ones with nine or more lives. After enduring 16 major hurricanes and two sinking incidents, Christeen floats atop the waters of Oyster Bay as a calm, unsuspecting classroom. The ship is the pride and joy of The WaterFront Center, a nonprofit U.S. Sailing–accredited facility that educates both youth and adult trainees. In addition to demonstrating the art of sailing and the importance of environmental responsibility, The WaterFront Center also rents sailboats and kayaks to veteran boaters or trustworthy gusts of wind.
1 West End Ave.
Oyster Bay
New York
516-922-7245
Peter Goldfarb sits watching his mother, who holds a textbook with one hand while churning cookie dough with the other. As she pulls double duty as a mom and graduate student, she unwittingly alters the course of her son's life. The young Peter will soon grow up, move to Los Angeles, and pursue a career in television production—but his friends won't care about his industry stories; they'll want to know where his shipments of ridiculously tasty cookies are coming from.
This true tale is what inspired Peter to eventually enroll in culinary school and coax his mom into cofounding Chip'n Dipped. Today, the duo and a crew of bakers make all-natural cookies, chocolates, and confections—including gluten- and dairy-free options—in full view of customers, as well as for impressed reporters from large publications such as the New York Times, Newsday, and the Candyland Gazette. Using kosher ingredients and minimally processed chocolates, the mom-and-son team creates treats loaded with bioflavonoids and free of hydrogenated oils and preservatives.
342 New York Ave.
Huntington
New York
631-470-2579
With high-tech, modern flight simulators and a fleet of advanced aircraft at their disposal, the instructors of Empire Flight Academy lead a host of trainings in the invigorating art of airborne transit. Authorized as a Cirrus, Diamond, Cessna, and Garmin G1000 education facility, Empire Flight holds courses that shuttle would-be cloud kickers toward their Private Pilot Certificate and Instrument Ratings through combined training on the ground, in the cockpit, and careful study of footage from Airplane!. Additionally, Empire Flight Academy's offshoots—Empire Airways and Skyline Tours—offer ride-along sight-seeing jaunts of New York, as well as privately chartered flights.
Republic Airport
Farmingdale
New York
631-777-5030
Skilled in the supervision and education of pint-size chefs, What's Cooking? instructor Lynne Gerald has dished kid-friendly cooking advice on Martha Stewart's talk show. Her culinary career began in nursery programs, where Lynne would teach cooking lessons to her students as a fun break from memorizing the periodic table. Young chefs began to show increased motor skills, vocabularies, and desires to share, prompting Lynne to create her youth-focused cooking school. The school structures its curricula to teach patience, recycling, and social skills. Classes of up to 10 students and workshops of potentially 20 pupils aim to instill the foundations of healthy eating in children at a young age, discouraging them from unhealthy habits such as snacking on Fritos unearthed from davenport cushions.
30 E Main St.
Oyster Bay
New York
516-922-2665
The professionally trained fencing instructors at Rhode Island Fencing Academy & Club seek to develop their students' mind, body, and character through participation in the centuries-old sport. During the academy's classes, students of any skill level may choose to learn on all three Olympic weapons: foil, sabre, and épée. The one-hour sessions generally last for six weeks and each builds on prior material to help students improve their skills on the strip. Two meetings are composed entirely of competition with fellow classmates, allowing students to show off their newfound skills, and the last session is a class tournament.
Rhode Island Fencing Academy & Club, which originally operated as a two-location enterprise, consolidated into one 12,000-square-foot full-time professional fencing studio in March of 2012. The air-conditioned facility features 15 electric strips and zero chandeliers from which swashbuckling fencers may swing. Though the sport finds its roots in the practice of sword fighting, modern fencing is much safer, and the academy has advanced equipment and instructors that hold CPR certification just in case.
101-32 Dupont St.
Plainview
New York
US
516-576-0646
A 99-year-old great-grandmother trades her cane for a unicycle and rolls smoothly across the floor of a vibrantly colored studio. Made possible by an innovative uni-trainer device, similar feats occur regularly during group unicycle lessons held at Just One Wheel's 5,200-square-foot facility. Cofounder Adam Cohen turned to one-wheeled cycling to stay active after being diagnosed with Crohn's disease, then began teaching the entertaining sport of unicycling to any student over the age of 4. During each lesson, groups of up to 12 helmeted students spend 60 minutes laughing, strengthening cores, and ducking prospect scouts from street-performance leagues. Just One Wheel also offers unicycling schools and camps, birthday parties, and miscellaneous open-play sessions.
191 Newtown Rd.
Plainview
New York
516-586-8444
---