Gourmet & Healthy in Wylie
---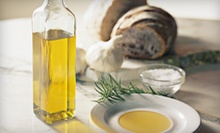 Experienced instructor educates groups of up to 10 on history and flavors of olive oil; selection of gourmet oils, vinegars, and salts
---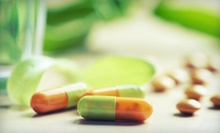 Natural food options, including allergy-free groceries, protein powders, and organic juices, along with body-care products and vitamins
Use Today 10:00am - 7:00pm
---
Recommended Gourmet & Healthy by Groupon Customers
---
Embracing a bohemian aesthetic, Zin Zen Wine & Bistro lavishes guests with comfortable sofas and a menu of bright, gourmet cuisine to meander through while relaxing on the patio. From the kitchen, chefs send out pizzas straight off the grill, and rich baked brie wrapped in a flaky pastry puff with an apricot glaze. Throughout the month, Zin Zen also hosts live musicians, whose soulful croons provide sippers with a lively soundtrack to synchronize with their brass cymbal-style toasts.
6841 Virginia Pkwy, Suite 104
Mckinney
Texas
With an empire stretching across 100 stores in 24 states, Nutrishop fuels bodies all over the country with scientifically formulated supplements, vitamins, and optimizers. Tasty Clif Bars and nutrient-filled protein concoctions rebuild muscles after workouts, and weight-loss formulas from Lipocor or Thyrostim even out erratic metabolisms. Teams of certified sports nutritionists staff each store, ready to guide patrons through the shelves of Muscle Milk and fruit extracts or demonstrate which pills help to detoxify livers, target hard-to-slim midsections, or activate latent mutant abilities.
2633 McKinney Avenue
Dallas
Texas
214-880-9638
A shelf lined with large apothecary jars runs the length of Grapevine Olive Oil Company's airy shop. Of course, the shop is not a pharmacy, and the jars don't contain medicine—the stainless-steel containers are actually fustis, which preserve olive oil for shopkeepers to dispense samples. The shop houses dozens of eclectic flavored oils and vinegars, such as Persian-lime olive oil, espresso balsamic vinegar, and—the owner's favorite—wild-mushroom-and-sage olive oil. The olive oils come from all over the world, though each vinegar hails from the storehouses of Modena, Italy. To simplify the diverse selection, shopkeepers can suggest recipes and blends of the dressings—basil olive oil paired with fig balsamic vinegar goes well with pastas, for example, and blood-orange olive oil and tangerine balsamic vinegar turn into an edible shampoo.
326 S Main St.
Grapevine
Texas
682-223-1592
Much has changed in the health-and-wellness arena since Richardson's Health Foods was founded more than 40 years ago. However, the family-owned store has stayed steadfast in its dedication to bolstering patrons' well-being by keeping abreast of current research and new trends. A knowledgeable crew champions all things natural and organic—from supplements to beauty supplies—and helps shoppers navigate aisles of earth-friendly wares to unearth products that are suitable for their specific ailments or health needs. Along with their vast inventory of goods, they also provide natural health services and therapies, such as cardiovascular screening to test the ticker's condition and deep-tissue massage to ease muscle aches caused by extreme piggybacking.
5804 S Hulen St.
Fort Worth
Texas
817-294-1180
Golden oils and ruby-colored vinegars in more than 50 varieties gleam from glass amphorae along the walls of Oil & Vinegar, an international enterprise that boasts locations in 10 different countries and 15 U.S. states. At patrons' request, knowledgeable staff members draw artisanal oils and vinegars from amphora taps and provide cooking tips to guests. Guests can return to Oil & Vinegar to refill their emptied glass bottles with oils or rich balsamic vinegars or peruse a selection of epicurean goodies such as gourmet pastas and herbs.
Watters Creek at Montgomery Park
Allen
Texas
214-383-3303
---