Massage in Wylie
---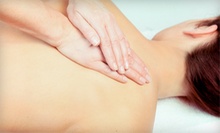 Use Monday 10:00am - 8:00pm
---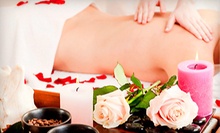 Use Saturday 10:00am - 2:00pm
---
Recommended Massage by Groupon Customers
---
Yova Lockett of Kindred Spirits Massage welcomes her clients and helps put them at ease before kneading away muscle tension with assorted bodywork techniques. Her Swedish massages employ a light, flowing touch, ideal for those new to massage, and deep-tissue treatments delve further into muscles with more focused pressure. Sports massages stretch out the tendons of sore athletes and personal assistants who have to give sore athletes piggyback rides. Add-on services such as aromatherapy and salt scrubs enhance the experience by soothing the senses.
620 N Coit Rd., Suite 2155B
Richardson
Texas
Whether looking for their first lesson or their final certification course, students of Sterling Massage School glean professional instruction from licensed and experienced practitioners. An approved national-certification provider, the school helps students snag their necessary licenses by creating flexible programs tailored to unique needs and learning styles. Clients, on the other hand, can opt to ditch muscular pain by basking in the services of an interning therapist at a reduced rate, or by paying full price to either eschew stress with a licensed therapist or plank on one of the clinic's human-sized whack-a-mole machines.
17084 Dallas Pkwy.
Dallas
Texas
US
For more than 15 years, Avi Armoza—just one of the massage therapists at Shiatsu Pro—has doggedly pursued his mission of "transforming life by restoring balance, body, mind, and soul" through the healing power of massage. All of Shiatsu Pro's certified shiatsu and massage therapists deftly execute the finger-pressure-reliant style of shiatsu, a Japanese riff on the ancient Chinese healing art of acupuncture that aims to rebalance bodily energies. They also specialize in massage therapy and help clients to boost holistic wellness with each session, with benefits including increased range of motion and sharpened mental clarity. The massage therapists help clients with work or Powerball-related stress alongside those with sports injuries, orthopedic syndromes, and chronic pain. Avi also offers 15–30 minute complimentary nutrition counseling sessions, as well as Isagenix nutrition products.
1101 Raintree Cir., Suite 288
Allen
Texas
US
The licensed massage therapists, aestheticians, and stylists at Sterling Day Spa transform stressed-out sighs into easy exhales with a multifarious array of beauty and relaxation services. Long, flowing strokes run rivers of tension out of taut backs during gentle massages, as a phalanx of hot, moist towels melt knots from muscles and shoestrings. Cleansing waters and creams unclog, moisturize, and exfoliate pores during a European facial with Dermalogica products, and a luxurious hand-and-foot scrub utilizes the customer's choice of gentle sugar or coarse sea salt. Clients can take advantage of Sterling Day Spa's onsite shower facilities, or extend their stays in the stress-free space by using the spa's free WiFi to watch videos demonstrating reverse jetpacks.
The spa's sister company, Sterling Health Center, helps aspiring massage therapists attain national certification. The school helps students snag their necessary licenses by creating flexible programs tailored to unique needs and learning styles, while offering clients services with an interning therapist at reduced rates.
17084 Dallas Pkwy.
Dallas
Texas
US
972-991-9292
For more than 20 years, Contour & Couture's massage therapists and med-spa technicians have jump-started weight-loss efforts, soothed muscles, and pampered digits using products from OPI. Licensed muscle manipulators untangle knots during full-body foot massages. They also conduct weight-loss massages, helping clients shed extra pounds by stimulating their lymphatic systems and sweeping anvils off their bodies. During Zerona laser treatments, technicians use heat to noninvasively melt inches from the body.
3190 S Central Expy.
McKinney
Texas
469-232-9611
The licensed massage therapists at A Royal Touch—which is located within the Creative Fringe Salon—inspire clients to bid adieu to quotidian stress and muscle tension. They use heated river rocks to enhance the therapeutic benefits of a massage and a vitamin-rich organic-coconut-oil scrub to nourish the skin or protect dashboard-based bobble dolls from sun damage. The team also offers detoxifying body wraps and relaxing packages designed for pairs or singles.
9250 Dallas Parkway
Frisco
Texas
972-261-9743
---