Restaurants in Wyoming
---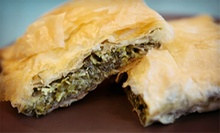 Family restaurant offers up gyros, burgers, steaks, salads, and traditional dishes such as kebobs and spanakopita
---
Recommended Restaurants by Groupon Customers
---
Originally founded in 1936 in Glendale, California, Big Boy's flagship location initially bore the name Bob's Pantry after owner Bob Wian. At a diner's request, Bob piled two beef patties onto a bun to create the Classic Big Boy––an original double-decker hamburger that would become so popular that the small burger stand would eventually grow into a franchise of more than 100 U.S. locations. Legend has it that Bob named the creation after one of his most loyal customers: a 6-year-old boy in droopy overalls who would one day ascend to mascot stardom.
Though the menu has since expanded to include ham sandwiches, homestyle dinners, and breakfast, the eatery still serves its namesake burger stacked high with two patties, american cheese, shredded lettuce, and a special sauce. A large, overall-clad statue stands guard at every location, reminding patrons of the restaurant's humble beginnings and that children will turn to stone should they not eat enough cheeseburgers.
4950 Wilson Ave. SW, Suite 100
Wyoming
Michigan
At Take 5 Catering, chefs make midday feasts fresh daily, transforming ingredients from local farms into sandwiches, salads, soups, and signature cakes. Every house-made menu item jumps off the pages of recipes created by master chef Angelo Darin and master baker Kelly Bordeaux, including the signature italian meatloaf sandwich, made with braised meatloaf stuffed with mozzarella and spinach.
Caterers deliver orders of $20 and up free of charge and ferry lunches to diverse locations such as homes, offices, and disembarking blimps within 45 minutes of order placement. Clients can solicit their meals by phone or email, and party-throwers can spruce up spreads with custom-frosted sheet cakes.
40 Monroe Center St. NW
Grand Rapids
Michigan
US
616-887-1113
The team at Hog Island Subs stuffs myriad meats and cheeses between fresh bread, creating classics such as BLTs and inventive food that includes a steak sub topped with hot sauce, jalapeños, and banana peppers. Their generous helpings of pork products—especially when thrown into the middle of the ocean—help Hog Island earn its name. Chefs put together subs such as the five-meat italian or the Three Little Pigs, a triad of pulled pork, imported ham, and smoky bacon topped with sun-dried tomatoes. They also bake flatbread pizzas in variations such as the Hog Island Flat, which is topped with cheese, bacon, ham, and pepperoni.
5422 S Division Ave.
Kentwood
Michigan
US
616-534-4644
At Brandywine's casual eateries, an appealing explosion of framed photos and artwork greets guests as they sit down to their morning breakfast or unwind over a leisurely dinner. Chefs warm up the kitchen in the a.m. by cracking dozens of eggs into veggie-stuffed omelets, eggs benedict, and hearty breakfast burritos stuffed with black beans, fresh cheese, and chorizo. During lunch, patrons can pop in for sandwiches and wraps, including a corned-beef reuben or the Northender wrap—a collection of deli-sliced beef with grilled mushrooms, horseradish mayo, and peppers. For dinner, Brandywine's chefs show off their multicultural influence in dishes that blend Caribbean, Asian, or Greek flavors, including the chili-rubbed Norwegian salmon or fettuccine tossed with sautéed capers, artichokes, and black olives.
1345 Lake Dr SE
Grand Rapids
Michigan
US
---