Restaurants in Yankton
---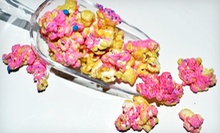 Housemade gourmet-popcorn flavors include white chocolate, cookies and cream, and chocolate-drizzled caramel
---
Recommended Restaurants by Groupon Customers
---
Local lamb chops, brushed with fresh rosemary and olive oil and grilled. Short-rib osso buco, cooked sous-vide for 36 hours. Pork tenderloin smoked with cherry wood, awash in maple-chipotle glaze. Bros Brasserie Americano's menu is filled with sophisticated, elegantly plated dishes, all with recommended pairings. But it's not wine the staff suggests to pair with the New American cuisine—it's beer. A row of 16 tap handles is constantly changing as the staff rotates in all-American craft beers such as Widmer 924 Milk Stout, Crow Peak Brewing Company's 11th Hour IPA, and New Belgium Brewing's Peach Porch Lounger. Bottled brews round out the extensive collection.
Diners can have the chefs steam a pound of mussels in their choice of any of the tap beers. They can also belly up to the bar for eats that are more casual but no less carefully crafted. The chefs grind their own Angus beef to form into 8.5-ounce patties for their Bro burger, which they pile with bacon, aged cheddar, and maple-chipotle barbecue sauce.
332 S Phillips Ave.
Sioux Falls
South Dakota
605-275-3181
Restaurant Card of Sioux Falls lightens the bill at business lunches, family dinners, and game-day gatherings by unlocking discounts for lunch and dinner at more than 30 restaurants and pubs, seven days a week. Vendors who take the plastic tender include national and local eateries alike, from KFC and Quizno's to Honeybaked Ham, and La Fiesta Mexican Restaurant. The card works its delectable magic for cardholders of all ages and stances on ketchup's status as a vegetable, and may be used an unlimited amount of times at each establishment.
5000 Empire Mall
Sioux Falls
South Dakota
Roll'n Pin's kitchen bustles as chefs prepare classic American fare from scratch. In the morning, skillets sizzle with omelets, pancakes, and waffles, later giving way to hearty steak dinners, burgers, and pasta. A salad bar stocked with leafy greens and vegetables fills plates with healthy fare, and a kids' menu caters to families or mad scientists who got in the way of their own shrink ray.
3015 W Russell St.
Sioux Falls
South Dakota
605-339-9190
Tea Steak House founders and meatallurgists Lloyd and Rickie Ihnen developed an innovative two-week meat-aging process that transforms even the toughest cuts of beef into obedient slabs of savory meat. Enjoy the fruits of the Inhens' meat labors by sprinting toward Tea Steak House's dinner menu, best known for its steaks, such as a 16–18 oz. rib-eye ($15.99) served with a choice of potato, salad, and dinner rolls. Diners who think such an option is too petite for their palate tend to spring upon the 26–32 oz. ham steak ($14) or the pizzaburger ($2.55), while carniv-ornery cuisiniers will be sure to leave room for the heavy-as-lead 10–12 oz. steak sandwich ($11). A 30 oz.-plus Porterhouse T-bone ($25) for dessert completes the circle of meat. Vegetarians, meanwhile, can graze on the weeds growing out back, or opt for a chef salad ($5.99).
215 South Main Avenue
Tea
South Dakota
From its humble beginnings in Kankakee, Illinois, in 1938, Dairy Queen has grown from a delicious experiment in soft-serve ice cream to a household name with more than 5,900 restaurants around the world. The shop's signature frozen delights are built upon a frosty foundation of creamy chocolate or vanilla soft serve, which swirls idyllically into cones, cups, overturned top hats, sundaes, Peanut Buster parfaits, and the chain's iconic Blizzard treats, blended with crumbled candy and other mix-ins. Ice-cream cakes cleverly conceal a surprise filling of fudge and chocolate crunch between layers of vanilla and chocolate ice cream, providing sweet, sliceable sustenance for birthday parties and other special occasions.
5001 Crossing Place
Sioux Falls
South Dakota
In 1958, two brothers from Texas opened the first Pizza Inn, where they began assembling their signature pizzas out of cracker-thin crusts, tangy sauce, and generous piles of cheese. By 1994, the small, family-run restaurant grew into a sought-after franchise that was named No. 1 Pizza Chain in the United States by Restaurants & Institutions Magazine, as described on Pizza Inn's About Us page. With the help of the world's largest rolling pin, Pizza Inn's doughy empire has stretched across more than 310 national and international locations. Although they still rely on time-honored pizza-making traditions that have lasted more than 50 years, the franchise's chefs still make bold strides in new recipes, as evident in their bacon-cheeseburger pizza with beef, lean bacon, mustard, and pickles.
2208 E 10th St.
Sioux Falls
South Dakota
---