Dance Lessons in Yeadon
---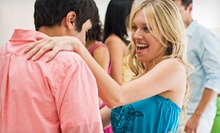 Nationally certified dancers teach students to execute salsa, hustle, ballroom, and swing moves in group classes
---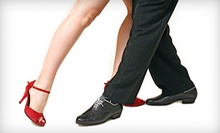 Couples make their own magic as they learn new moves on the dance floor; Zumba's Latin rhythms set the mood for energetic dance cardio
---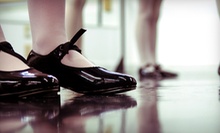 Use Monday 4:30pm - 7:30pm
---
Recommended Dance Lessons by Groupon Customers
---
Seven days a week, First Position Dance Arts offers a Swan Lake's worth of dance classes for agility-seeking adults. Under the tutelage of the studio's graceful guides, students will take on the fearsome foes of rhythm, balance, and poise through a well-coordinated attack of box steps, chassés, and pops/locks. Class options include ballet, modern/jazz, and hip-hop, all of which can improve cardiovascular systems, aid in weight loss, and provide a good icebreaker should you happen to meet the ghost of Martha Graham.
10 E Athens Ave., Suite 204
Ardmore
Pennsylvania
Ornate railings flank the steps to one of BlueBallRoom Dance Studio's two spacious dance floors, whose hardwood-maple surfaces mask springy, joint-cushioning subfloors. The studio's team of talented teachers leads classes in a monthly rotation of social dances ranging from Argentine tango and various ballroom styles to intermediate touchdown dancing. Group classes encompass these styles as well as cardio-centric Zumba, famed for its easy-to-follow steps and driving Latin beats. Private-lesson subscribers, meanwhile, get closer attention and a chance to hone their footwork at regularly held free dance parties.
1601 Concord Pike
Wilmington
Delaware
Starting in 1998 in the Philadelphia suburbs, the women behind The Art of Exotic Dancing have strutted and hip-rolled their way to the forefront of a surge of interest in fun, sensual movement. At the foundation of heart-pounding routines drawn from floor work, belly dancing, and burlesque traditions is a philosophy of helping women of all ages and sizes shake hands with their inner siren. Dedicated to fostering a comfortable space where all participants feel safe, the certified instructors proffer encouragement and reassurance as they teach dances that emphasize self-expression, personal power, and natural movement. Pupils learn to dance to a full song during the 90-minute CoreMoves class, while the Signature Workshop fortifies confidence via flirtatious techniques such as sensual walking and slow-motion winking.
555 E Lancaster Ave.
Wayne
Pennsylvania
Julie Berger's memories are saturated with images of dancers— teachers who inspired her, students she worked with, and professionals she revered. Entranced by the beautiful and transformative art form, Julie practiced dance throughout her life, attending intensive dance programs, performing in competitions, and teaching at local dance centers. Julie discovered salsa dancing while studying in England, and she instantly fell in love with its sultry movements and lively steps. Determined to share the newfound style with others, Julie founded her own salsa-dancing studio.
At Salsa in the Suburbs Dance Studio, Julie and her staff of passionate dancers lead classes in a variety of styles, including salsa, ballroom, and belly dance. The instructors work with students of all levels, helping them master form, technique, and rhythms. The teachers also offer children's classes in ballet, tap, and Zumba, ideal for youngsters trying to be more active or hoping to include a lively dance section in their next chemistry presentation.
1245 North Providence Road
Media
Pennsylvania
610-800-8182
Dance instructors Brandi and Vuthy Ou performed and competed in dance competitions all over the world together before opening their own studio in 2006. They draw on their experience and chemistry to teach students of all experience levels how to tame skittish left feet through a robust schedule of ballroom-, social-, and Latin-style dance classes. Each 40-minute session begins with a brief warm-up before students learn how to synchronize steps. Students looking to hone skills in a specific dancing style may do so during American tango, swing, or rumba classes, and the social-dance program helps regular wedding crashers to feel comfortable while chicken dancing. Private lessons enhance rug-cutting skills with the advantage of one-on-one attention. Since partners are frequently switched during classes, both couples and singles are welcome.
1316 S 9th St.
Philadelphia
Pennsylvania
"No matter what you do with your dancing always be sure of one thing," writes Jersey Dance owner Jennifer in her dance blog. "The process of learning to dance should be the most enjoyable part." The longtime competitive dancer lives and teaches by that principle, as does her team of instructors. Their nonjudgmental vibe pervades the studio's multiple locations, creating a space where soonlyweds can get help choreographing their wedding dance from an encouraging professional. Likewise, groups of beginners can experience the thrill of learning the steps they see on dance-competition shows while skipping the part where they're given scores and spanked by the ghost of Fred Astaire. One-on-one sessions, meanwhile, offer private pointers on the complexities of the quickstep, the dagger-sharp footwork of Argentine tango, or enough floor space to safely attempt West Coast swing at its jitterbuggiest. Whatever is being taught that week, Jennifer and Co. tailor in-studio socials that give dancers a party setting to show off everything they've learned.
208 Barclay Blvd.
Princeton
New Jersey
609-375-8468
---