Yorba Linda, CA Drs and Health Practioners
---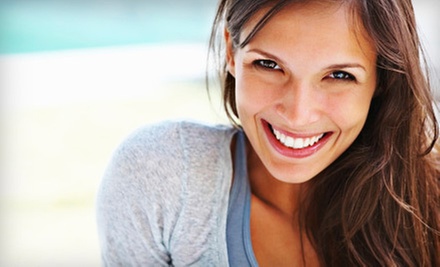 ---
Drs & Health Practitioners Deals
---
Recommended Drs & Health Practitioners by Groupon Customers
---
Highly experienced Doctors of Dentistry and lasertag partners Dr. Ty Caldwell and Dr. Susan Caldwell defend the pearly and slay the plaqued. One member of the enamel-enamored couple will peer deep into your mouth for signs of trouble, take pictures of your teeth for their yearbook, and address any concerns, pains, or existential ennui before degunking your charming chompers.
5400 Orange Ave. , Suite 250
Cypress
California
Dreamwork's couch-studded office may look ordinary and comfy at first glance, but it is actually so far advanced into the realms of spic and span that it verges on alien. The dental equipment uses filtered water, ensuring that you'll experience not just a hygienic environment but that you'll be able to rinse and spit with class. Doctor Dreamwork himself, Steven Lee, will gently peer deep into your mouth for signs of trouble, take pictures of your teeth for the office yearbook, and address any concerns, pains, or existential ennui before degunking your charming chompers of caked-on spinach and bird nests.
229 South Mission Drive
San Gabriel
California
Justin Michaels, OD, and Josephine Vu, OD, of Eye Care For You Optometry and South County Eye Care Optometric Group safeguard ocular health with top-shelf optometric technology and a vast array of stylish frames. Glasses and sunglasses from labels such as Dior, Calvin Klein, and Prada fashionably focus light toward the retina, and prescription sunglasses block unwanted glares from creeping paparazzi. Staff at South County Eye Care Optometric Group treats guests to a complimentary cup of java as they await contact-lens measurements or exams, and both clinics measure and diagnose eyeballs with sophisticated equipment and metrics.
1216 S Idaho St., Suite 3B
La Habra
California
714-879-2728
Since 1997, board-certified ophthalmologist Dr. Ferzaad Moosa has performed more than 60,000 LASIK procedures, gaining a level of expertise that inspired Top 10 LASIK to name him one of California's 10 best surgeons. After receiving his MD from Harvard Medical School, the doctor served an internship in Internal Medicine at UCLA and completed a three-year residency at the esteemed Doheny Eye Institute.
Dr. Moosa corrects nearsightedness and farsightedness with increasingly advanced laser systems, employing wavefront-optimized technology to automatically compensate for the curvature of the cornea while reducing negative side effects such as poor night vision or spontaneous disco-ball mirages. The machine also tracks the position of the eye 200 times every second, instantly pausing if it moves out of range.
10 Pointe Dr., Suite 310
Brea
California
866-923-9235
Soraya Acevedo, DDS and her team at Acevedo Dental Group know that using the most technologically advanced treatments often enhance patient comfort and convenience. As a member of the Academy of Laser Dentistry, she seeks out the latest industry innovations, including laser gum-disease treatments that avoid the use of shots and drills. In the Laser WPT process, Nd:Yag and Er:Yag energy removes the diseased gum lining, increases the body's healing response, and erases calculus problems or other scribblings from the root surface. Dr. Acevedo also quickly restores teeth with same-day crowns and straightens smiles with clear, removable Invisalign aligners.
709 W Beverly Blvd. , Suite 201
Montebello
California
323-724-1017
At Advance Detox Center, certified colon hydrotherapists use FDA-approved devices to gently remove excess waste. Optional aromatherapy stimulates the senses with soothing fragrances as clients experience the cleansing benefits of the gravity-fed Libbe open system or the staff-controlled Dotolo closed system. The knowledgeable technicians use disposable tubing to ensure cleanliness, and can enhance colon-hydrotherapy sessions with health-boosting add-ins such as acidophilus, aloe vera, coffee, or liquefied sunshine.
In addition to colonics, the crew offers detoxifying treatments such as infrared-sauna therapy, ionic footbaths, and ear candling.
7365 Carnelian St. , Suite 129
Rancho Cucamonga
California
909-989-1144
---