Ypsilanti Gyms and Fitness
---
Gym, Exercise, Weightloss Deals
---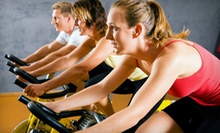 Group fitness classes aim to rebalance patrons' bodies and minds through yoga, Pilates, and Zumba sessions held six days per week
---
Recommended Gym, Exercise, Weightloss by Groupon Customers
---
The Links at Whitmore Lake challenges seasoned swingers and golf greenhorns alike with 18 diverse holes spanning meticulously manicured fairways. The picturesque course, designed by William Newcomb, boasts arbor-lined greens, five boardwalks, and scenic water hazards along 254 acres, nearly one-half of which is protected wetlands. Golfers can hone their skills while chipping out of pesky sand traps and tremor holes, and masterfully avoid stepping on cracks that break mothers' backs by rolling over them in the included golf cart.
1111 6 Mile Rd.
Whitmore Lake
Michigan
734-449-4653
Arbor Fit Club's menagerie of equipment lives inside a spacious, sunlit environment that resembles a hybrid between gym and health club. Life Fitness and Hammer Strength machines help build up bodies, and personal TVs affixed to cardio gear permit guests to zone out as they slim down. Group fitness classes scheduled seven days a week include Les Mills weight-training routines and yoga. Away from the workout action, sophisticated amenities await members, including a plush living-room entry lounge and keypad lockers with a holographic doberman guard system. Patrons can sip protein-enriched shakes from the juice bar as whippersnappers enjoy the supervision of professional childcare staff.
2723 Oak Valley Dr.
Ann Arbor
Michigan
734-214-6426
Within the walls of the One on One Athletic Club's 35,000-square-foot facility, the sounds of bouncing basketballs and whirring exercise machines reverberate in tandem with the echoing voices of motivating instructors to create a round-the-clock symphony of hustle-and-bustle. Its staff of fitness experts packs the facility, assisting clients with the professional cardio and weight-training equipment or conducting personal-training sessions. The trainers also lead a variety of group classes, from high-intensity boot camps to revitalizing yoga sessions.
The club's expansive sports courts are also home to drop-in games of recreational sports like basketball, squash, and volleyball. Outside of the workout rooms, club facilities include a smoothie bar, steam rooms, and dry sauna. Additionally, onsite childcare keeps children happily at play and distracted from plans to steal their uncle's toupee.
2875 Boardwalk St.
Ann Arbor
Michigan
734-761-4440
Since 2001, Stroller Strides' fitness professionals and buggy-bandying workouts have helped new mothers to overcome the struggles of staying in shape while caring for a wee one. Specially trained instructors helm a series of 60-minute classes, which consist of a warm-up, a power walk, and interval stations where limbs stretch resistance tubes in body-toning drills. Energizing jaunts often utilize hills, benches, and other environmental facets to augment maneuvers. Throughout the routine, engaging songs and activities keep children from growing overly fussy or pranking classmates by tossing banana peels in front of their buggies.
100 Briarwood Cir.
Ann Arbor
Michigan
734-717-8744
Angela Gorman has amassed a formidable list of certifications in the holistic-health industry after 14 years. She has been trained to soothe physiques with 28 different bodywork modalities, aided by her experience as a personal trainer and an anatomy and physiology instructor at Florida Metropolitan University, now known as Everest University. With such a broad wellness background, Angela was in prime position to develop Sacred Body's credo of customer care, which focuses a menu of treatments on restoring each individual's mental and physical balance.
Angela's team of massage therapists, yoga instructors, and life coaches subdue stressors by customizing their services to accommodate every client. The massage menu splits its offerings into corporal treatments—such as deep-tissue work—and energy therapy, such as reiki or kneadings with hot batteries. Faith in organic health has inspired the center's signature facial, which combines honey and fruits with herbal infusions brewed onsite to bring out the skin's radiance.
308 1/2 State Street
Ann Arbor
Michigan
734-680-0984
The Polo Fields Golf Course & Country Club encompasses two locations—one in Ann Arbor and one in Ypsilanti—each with its own 18-hole course and refined clubhouse. Designed by renowned architect William Newcomb, the par 72 Ann Arbor course channels the blustery hillocks and grass-eating bagpipes of courses in the United Kingdom with a 6,828-yard layout featuring broad, links-inspired fairways and deviously slick greens. A community fixture for nearly a century, the Washtenaw course takes clubbers on a verdant voyage among native oaks and cedars, burbling streams, and tranquil ponds. Both sites house fully stocked pro shops, where guests can peruse the latest in on-course duds, clubs, hats, and remote-controlled golf balls from brands such as TaylorMade, Adidas, FootJoy, and Titleist.
Guests can bask in views of the splendid links while enjoying regionally inspired American fare and frothy drinks at the clubs' two dining facilities, both of which feature settings for a variety of occasions. Swimmers can stroke through the outdoor lap pool at the Washtenaw location, and sunbathers can lounge by the colossal, resort-style pool in Ann Arbor. Within the Ann Arbor fitness center, hearts race on elliptical machines, muscles pump free weights, and calories melt during group fitness classes, before muscles soak in the warm, golf-ball-free waters of the hot tub.
Ann Arbor Course at a Glance:
18-hole, par 72 course
Length of 6,828 yards from the farthest tees
Course rating of 73.3 from the farthest tees
Slope rating of 141 from the farthest tees
Four tee options
Link to scorecard
Washtenaw Course at a Glance:
18-hole, par 72 course
Length of 6,524 yards from the farthest tees
Course rating of 71.7 from the farthest tees
Slope rating of 135 from the farthest tees
Four tee options
Link to scorecard
5200 Polo Fields Dr.
Ann Arbor
Michigan
734-998-1555
---