Ypsilanti, MI Indoor Activities
---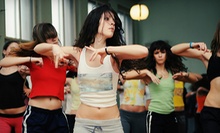 Burn calories unwittingly while moving along to Latin-inspired dance beats
---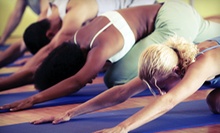 Enjoy yoga instruction with a small or large group of friends
---
Recommended Indoor Activities by Groupon Customers
---
Little stockinged feet pad madly across a spongy blocks painted in primary colors, then bound up stairs with an extra spring in each step. Inflatable walls and air-filled slides cushion exuberant children, who lack the grace, depth perception, and night-vision goggles that prevent adults from running into walls or going down slides backward. Xtreme Bounce Zone houses six of these inflatable playsets, where kids can jump and slide with the abandon of commuters riding their hoverboards over a traffic jam.
A 52-foot obstacle course challenges kids' dexterity, giving them tunnels to charge through and inclines to clamber up, while side-by-side slides offer limitless racing opportunities. Toddlers enjoy exclusive access to their own bounce zone, where they can jump without fear of outshining their older counterparts. As tots ricochet off surfaces around the inflatable playground, parents join in the fun or sip complimentary coffee.
82 Aprill Dr., Suite C
Ann Arbor
Michigan
734-761-3242
Mahatma Gandhi once spoke the words, "Be the change you wish to see in the world." Yoga instructor Kimberly strives to live by this motto. Though she holds degrees in civil engineering and finance, she chooses instead to volunteer in the community, coach young female runners, and support education programs. At Yogacentric, Kimberly helps students of all ages manage stress, lose weight, and successfully impersonate a rubber band through 10 classes and counting. Trained in the Ashtanga system of yoga, Kimberly emphasizes breath as the connection between asanas.
141 E Michigan Ave.
Saline
Michigan
US
734-328-2964
Instructor Nicole has been practicing yoga for more than 10 years. Her studies led her to a dynamic Hatha style of yoga that focuses on internal and external alignment. As she shares the physical and emotional benefits of yoga practice, she encourages her students with her inclusive and sociable personality, cultivating a family-like environment within the studio. At Ann Arbor, classes are held inside a classical studio built in the 1800s, characterized by maple floors, exposed brick, and high ceilings.
When she isn't teaching at the studio, she can be found spending time with the young women at Vista Maria, a center that houses 160 girls aged 11–18 who have been removed from their homes because of violence, neglect, or trauma. Here, Nicole works to inspire the youths with yogic breathing and journaling classes.
220 South Main Street
Ann Arbor
Michigan
US
248-767-1042
---