Restaurants in Ypsilanti
---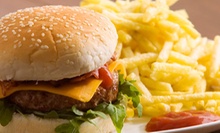 Pub opened since 1962 churns out USDA prime burgers atop rye bread & golden pieces of fried cod with fries & coleslaw
Use Monday 11:00am - 3:00pm
---
Recommended Restaurants by Groupon Customers
---
Coffee House Creamery is certainly not just a coffee house. Serving a vast menu that boasts more than 40 types of drinks, the café also offers 24 flavors of hand-dipped ice cream, sandwiches, and paninis pressed in a grill instead of under the seat cushion of a flaming couch. Inside the spacious interior, bowls of daily made soup and colorful salads populate tables where visitors kick back and enjoy free WiFi.
3780 Jackson Road
Ann Arbor
Michigan
734-222-0555
Mélange's chefs merge European and Asian flavors and presentation techniques to construct a menu of elegant entrees flecked with contemporary American influences. Dishes unite high-quality proteins including Scottish Atlantic salmon and meats marinated with continent-crossing ingredients such as soy, yuzu, and miso, forging a gastronomic alliance as unique as a snowflake-flavored lollipop. A fleet of sushi rolls totes fresh seafood and umami-packed garnishes, and a cellar with more than 1,500 bottles of wine from France, Italy, and California accessorize any mouthful. Mélange's dining area draws inspiration from old Parisian restaurants, with bamboo furnishings bolstering the multicultural ambiance and 10-foot-tall booths fostering intimate conversing and adrenaline-fueled rappelling.
312 South Main Street
Ann Arbor
Michigan
734-222-0202
The recipes that guide the chefs at Taqueria la Fiesta have been handed down from generation to generation, guaranteeing a time-tested, homemade taste of Mexico. Entrees incorporate traditional ingredients such as barbacoa (steamed beef), chorizo, and prickly pear cactus, which evoke the desert more appetizingly than an empty water glass. The kitchen also slings a sizeable vegetarian menu, as well as all-day breakfast specialties including huevos rancheros and chilaquiles. In addition to authentic flavors, Taqueria la Fiesta hosts occasional live performances that showcase traditional Mexican dance styles.
4060 W. Packard Rd
Ann Arbor
Michigan
734-477-9240
Upon entering Damon's Grill, guests must first pass under a quartet of bronze athletes immortalized in midpass or midswing. Once inside, the aroma of grilled steaks, ribs, fish, and chicken pulls them in one of two directions: toward quieter dining spaces, or toward the raucous energy of the clubhouse bar. In the clubhouse, revelers gather around the eatery's exclusively operated DTV––an entertainment system comprised of flat-screen TVs beaming with live sports and news broadcasts. Using tabletop speakers, guests control the audio station, volume, and frequency to curb the behavior of any nearby rabid canines. They can also compete with each other and players nationally with sports and trivia games. For outside gatherings, Damon's Grill's culinary crews assemble plated menus, buffets, and grilled meat packages.
3150 Boardwalk Dr.
Ann Arbor
Michigan
734-827-2277
---