Yuba City, CA Health and Fitness
---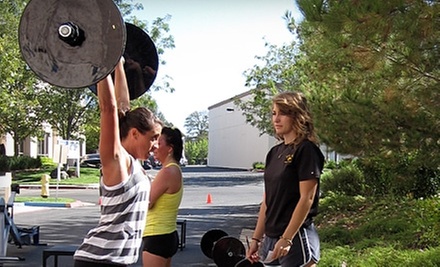 ---
Recommended Health & Fitness by Groupon Customers
---
Solving your pain and stress problems through massage!
717 K Street, Suite 500
Sacramento
California
US
916-534-8772
Walking into the weight room at The Capital Athletic Club, visitors may think they've stepped into a European cathedral. Vaulted wood ceilings soar above resistance machines and free weights, immersing exercisers in a light, airy atmosphere and allowing trainers to participate in the annual Bring Your Giraffe to Work day. Dozens of classes cater to group fitness in four wood-floored studios and a heated, outdoor pool ensures comfortable laps regardless of outside temperature. Enthusiastic, highly qualified personal trainers collaborate with members, helping craft new programs for beginners or enlivening veterans' tired routines.
The club's amenities mirror its luxurious appointments, with each full member receiving a permanent locker for stashing clothes and parking meters you tore out of the ground with your bare hands. The staff launders workout clothes overnight, freeing up members' time for relaxing in the expansive saunas and steam rooms. WiFi facilitates impromptu business meetings and spa services offer relaxing treatments.
1515 8th St.
Sacramento
California
The downtown-based Asian Therapeutics' balancing acupuncture wellness treatment is the espresso of acupuncture, packing a hefty dose of therapeutic benefits into the tiny cup of your body. One of the licensed acupuncturists will isolate 11 acupuncture sites along your arms and legs and insert thin needles into these predetermined zones of mystical convergence, which is said to relieve tension, improve circulation, promote digestive health, and strengthen the immune system and lungs. Some people may feel a slight prick upon needle insertion and an ache when the needle is set to the correct depth; many people feel deep relaxation or energetic stimulation during the course of the treatment. There is no need to disrobe for the 30-minute treatment, as manipulation points are located primarily on the arms and lower legs.
1008 S St., Suite B
Sacramento
California
Arena Family Dental Care's team of dental professionals are committed to continuing their own educations with lectures, meetings, and conventions that keep them abreast of the latest techniques for healthifying Sacramento-area smiles. Dr. Merlin Lai will peer deep into your mouth for signs of trouble, take pictures of your teeth for Arena's yearbook, and address any concerns, pains, or existential ennui before de-gunking your charming chompers. The meticulous cleaning gives the heave-ho to any tartar and plaque buildup, clearing the way for future generations of inevitable meal remnants. You'll leave with a smile bright enough to melt hearts, including your own, so be careful around mirrors. Youthful sets of mouth-bones will also get a slathering of fluoride, the chain mail that protects teeth against decay's sharp sword.
4050 Truxel Rd., Suite B
Sacramento
California
916-515-1764
Though students chatter amicably in the main lobby, the atmosphere is completely silent and serene within Bikram Yoga Elk Grove's bright, sunlit studio. There, yogis of all shapes sprawl out on colorful mats and towels, stretching and meditating in the sauna-like air, which is heated to 105 degrees to aid flexibility and draw out toxins. When class begins, students follow a certified instructor through 26 postures and two breathing exercises, occasionally sitting on their mats to rest and relax. After class, they head back to the lobby to rehydrate or head to the locker room to check their cell phones, pagers, or portable telegraph machines—all of which instructors request stay outside the studio. Students of all levels and athletic abilities experience the benefits of these sessions, including enhanced strength, reduced stress, and increased energy.
9384 Elk Grove Florin Rd.
Elk Grove
California
After turning to Bikram yoga to ease her chronic hip, shoulder, and hand pains, seasoned yogi Patty Gray realized a dream in bringing this healing practice to her own community. At Bikram Yoga Granite Bay, she leads a diverse team of certified instructors—which includes a dietitian, a marathon runner, and a former DJ—that helps students of all ages and abilities reach their fitness goals with 26 dynamic postures. These postures, or asanas, include both seated and standing positions and are performed in the detoxifying humidity of a 105-degree room. During each 90-minute sweat session, instructors help students to let go of their competitive nature while improving their strength, balance, and ability to fold themselves neatly into a suitcase.
4067 Cavitt Stallman Rd.
Granite Bay
California
916-797-9829
---