Museums & Galleries in Yuba City
---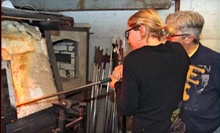 Glass blower leads students through class that covers blowing, shaping, and turning a one-of-a-kind ornament; pre-made ornaments available
---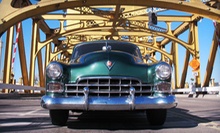 Visitors explore 72,000 sq. ft. of classic cars
---
Recommended Museums & Galleries by Groupon Customers
---
Make up for the ill-fated model-train competitions of your childhood by celebrating National Train Day in style. You'll board the locomotive in full Victorian regalia at the Sacramento Southern Railroad ticket office in Old Sacramento and embark on an epic 40-minute journey through the central California wilderness. Amid the train's historic 1920s-era El Dorado luxury car, your 6-mile round-trip ride will transport you along the edge of the Sacramento River in the style of politicians and highfalutin VIPs of bygone days. The air-conditioned cabin boasts plush ruby sofas and expansive windows for taking in the panoramic views while enjoying complimentary lemonade and cookies.
Front St., Between J St. and K. St.
Sacramento
California
The nonprofit Heidrick Ag History Center harvests the rich history of agricultural machinery and transportation through an extensive collection of vintage tractors and trucks. The 130,000-square-foot space houses both the Hays Antique Truck Museum—home to such artifacts as a one-of-a-kind Breeding steam-powered truck and broccoli steamer from 1916—and the Fred C. Heidrick Antique Ag Collection, an assemblage of olden-day iron horses and golden cows collected over a period of 60 years.
Using skills acquired from his childhood days building his own planes and combines from scraps of wire and wood, Mr. Heidrick himself restored most of the equipment—some of which was formerly little more than heaps of rust—to its original condition. Palettes of green, red, and yellow pop from John Deere tractors from the 1930s to the 1950s, a Deering reaper machine from 1891, and a 120-horsepower Holt built in 1917 to tow artillery during World War I.
1962 Hays Ln.
Woodland
California
---