Things to Do in Yucca Valley
---
Recommended Things to Do by Groupon Customers
---
More than 50 food trucks will roll in from all over Southern California this year for the Palm Springs Food Truck Festival, a culinary event organized by Cliff Young of PBS' Out to Eat. Participants range from Oooh La La Crepes to Biker Jim's Gourmet Dogs, a truck specializing in encased meats such as cilantro-infused duck sausages or Zonker Stout Habanero Cherry Buffalo brats. Festival-goers can also snack on free samples, sip brews in a beer garden, or digest to the beat of live music.
401 E Amado Rd.
Palm Springs
California
Curated by Cliff Young, host of KVCR's Out to Eat, the Palm Springs Craft Beer Conclave gathers Southern California's most esteemed brewers for a festival that celebrates the rising art of craft beer brewing. Beer makers ranging from Escondido's Stone Brewing Company to San Diego's Karl Strauss Brewing Company hawk more than 100 types of brew in hopes of capturing the festival's coveted People's Choice Award. When not busy voting on their favorite suds, visitors break for bites from local food trucks or boogie to the beat of live bands and DJs. The festival also honors the craft of everyday brewers with a homebrew competition, giving amateurs the chance to show off their latest batches or the subliminal messages they coded into their labels.
401 E Amado Rd.
Palm Springs
California
In 1992, Phil Dietro's younger brother Stu became enamored with his friend's paraplane, prompting him to learn how to pilot the motor-powered parachute. In an old fashion bout of sibling rivalry, Phil too wanted to master the strange flying contraption, traveling with Stu to Santa Ynez Airport for his first flight. As gusts of wind rearranged his hair, and impressed birds beckoned him over for high-fives, Phil became hooked, later seeking further training from the paraplane's inventor, Steve Snyder.
A year after his first flight, Phil's newfound hobby inspired him to establish Inland Paraflite, where he currently schools fledgling aviators in an airborne classroom high above the Apple Valley desert. His exhilarating flight courses instill cloud-curious students with the knowledge to man a dual-controlled Powrachute Pegasus, which reaches speeds of up to 32 miles per hour—the same speed at which the sound of soft rock travels.
17100B Bear Valley Rd., Suite B263
Victorville
California
760-242-3359
An elegant chateau sits on the hill at the center of Leoness Cellars' vineyard, overlooking 70 acres lush with grapes. The chateau welcomes guests who come to visit its tasting rooms and serves as a compass of sorts for those who wander too far on walks through the purplish fields. It looks on as couples recite their vows during wedding ceremonies, and it houses a complete production facility where daily tour groups learn about the age-old methods of crushing, aging, and singing soft lullabies to grapes. Chef Daragh Matheson fills the chateau's kitchen with the aromas of Alaskan salmon, ahi tuna, and beef carpaccio—specialties that pair exquisitely with the cellars' wines.
38311 De Portola Rd.
Temecula
California
US
951-302-7601 x125
---
---
Things to Do Deals - Recently Expired
---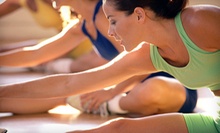 Encouraging instructors lead fun, high-energy group classes such as yoga, Zumba, and Barre Blast, which incorporates elements of ballet
---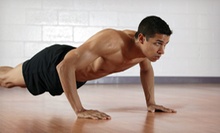 Trainers lead one-hour sessions designed to sculpt and tone, offering classes starting from 5 a.m. until 6 p.m.
---
---