Things to Do in Yukon
---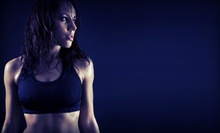 Indoor boot camp classes challenge students of all fitness levels with total-body working designed to reduce fat
---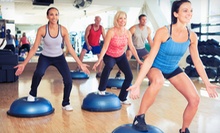 Classes start as early as 6 a.m. and include Zumba, kickboxing, calisthenics-style cardio, and women's-only boot camp inside new gym
---
Recommended Things to Do by Groupon Customers
---
The 18-hole course at Sugar Creek Canyon Golf Club puts golfers face-to-face with a wide variety of challenges, from violent crosswinds to treacherous sandstone ravines. Completed scorecards often tell a tale of two nines, as the wide-open front nine lulls the unwary golfer into overconfident thwacks, though the relatively flat layout brings wind into play on many bids for the green. Lack of restraint going into the back nine may be one's undoing, as this half tacks along the edges of the course's eponymous canyon: rolling, diving, and swelling through a gauntlet of ravines and gullies. Whereas the front nine posed few obstacles to knock down shots that drifted astray of the fairway, the back nine features plenty of cedars, grassy hillocks, and sandstone outcroppings in which to lose a ball. Holes 14–17, known collectively as The Stretch, make each player earn a score worthy of posting in the clubhouse or skywriting over an opponent's home. The par 5 16th, for instance, demands a precise tee shot lest the ball wind up in the twin ravines that straddle the fairway landing area. After safely sidestepping these disaster zones, players must then make a difficult choice between going for the green or laying up well short, as every endeavor that lands within 75 yards of the putting surface winds up in the bunker or deep rough.
Though players must adapt to a number of scenarios, course designer and longtime professional player Mark Hayes made sure that each hole adheres to a common theme of pristine conditions and playability for all levels of golfer, with four tee options at each hole. Sugar Creek Canyon also hosts tournaments every year.
Course at a Glance:
18-hole, par 71 course
Four tees options at each hole
Total length of 6,837 yards from back tees
Designed by Mark Hayes:m]]
200 W Sugar Creek Dr.
Hinton
Oklahoma
405-542-3974
A community-built science-and-art museum, Leonardo's Discovery Warehouse entertains young minds and inspires creative thought with numerous educational exhibits. As it pays tribute to the famed artist, musician, architect, inventor, engineer, botanist, and Tony-winning choreographer Leonardo da Vinci, the discovery warehouse offers a balance of art, biology, and engineering stations to stimulate both sides of the developing brain. Kids can explore a rainforest environment and meet live animals, strap into a space-shuttle flight simulator, dig for ancient fossils in an excavation pit, and create masterpieces in an arts-and-crafts studio. Directly outside of the museum is Adventure Quest, a three-story wooden castle filled with imagination-fueling bridges, slides, mazes, and swings.
200 East Maple Ave.
Enid
Oklahoma
Kelly Kraegel Varner, who held the title Miss Rodeo California in 2002, presides over Cottonwood Creek's stable of regal Morgan horses, many of whom have had a hand in the 50 World and Grand National and Reserve Championships she and her clientele have amassed over the years. With the help of Mandy Highsaw, a 20-year veteran rider and instructor, Kelly has centered Cottonwood as a respected riding school catering to students as young as seven.
The ranch's horseback riding lessons impart precious knowledge in a variety of riding styles, including Western, English, saddle-seat, stick-shift, and automatic, with friendly teachers practicing effective, positive reinforcement on both students and horses. Come midsummer, Cottonwood's summer camp amasses small groups for tutorials in Western- and English-style riding and grooming, as well as outdoor activities such as swimming and crafting. Gallopers gallivant across the ranch's newly renovated riding facility, with a spacious outdoor arena for open-air rides or a well-lit, roomy indoor space for winter riding or playing games of horse Monopoly during rainstorms.
8025 S Sooner Rd.
Guthrie
Oklahoma
405-204-7625
---