Beauty & Spas in Zanesville
---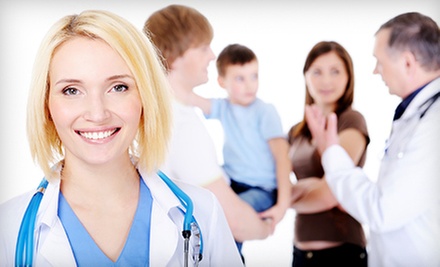 ---
Recommended Beauty & Spas by Groupon Customers
---
Beauty at Hand supplements its exhaustive list of services with a few small perks that turn any treatment into a relaxing, revitalizing visit. From the massage chairs and footbaths of the salon's nail-service area to the white drapes and foliage that flank the main space, few touches go unnoticed by incoming clients. Licensed nail technicians carry the weight of the signature services, which range from lavish spa treatments to applications of OPI Axxium gel, acrylics, and nail art. Beyond the bread and butter of nailcare, the staff also oversees UV-free tanning-bed sessions, adds a dash of sass with 3-D Beauty lash extensions, and smoothens out the skin with precise facial waxing. The staff even performs manicures and pedicures for children, allowing kids to further misunderstand what it means to get caught red handed.
362 S Hamilton Rd., Suite A
Gahanna
Ohio
614-337-9991
Each nail technician at Perfect Ten Nails absorbs cuticle-tending knowledge at continuing-education classes that ensure modern techniques enhance finger and toe shields big and small. Techs delight in transforming mani-pedis into relaxing spa sessions by adding on services from aromatherapy to skin-smoothing peels. Premium polishes, including long-lasting gel polish, make a rainbow of color over nail artist's tables, indicating the pots of gold buried beneath. Additionally, the shop's licensed permanent-makeup technician carefully enhances features with tattooed eyeliner, lip liner, and brow liner that ensure effortless beauty at any hour of the day.
7110 E Main St.
Reynoldsburg
Ohio
614-324-9148
With complimentary beverages in hand, clients at LD Skin Spa slip into richly decorated private treatment rooms. Inside, an aesthetician performs facials, waxes, massages, or body treatments for her or for him. The staff opt for the gentlest methods, using a cream depilatory for Brazilian hair removal and hands rather than a stampeding obstinancy of buffalo to soften tense muscles.
2600 Tiller Ln.
Columbus
Ohio
614-427-8446
When Erica Vicens's mother, Gloria, came home one day with permanent eyeliner, Erica fell in love with the dramatic look. But she was only seven years old, and had to wait many years before getting the procedure herself. When Erica finally traded in her eyeliner pencil for good, she also signed up for a training class to learn how to apply permanent makeup on her own. "The first time I took the training class, knew that was it," Erica said. She was just as enchanted with the process as she had been with the results.
73 North St.
Gahanna
Ohio
614-414-0808
College students explore plenty of options to fund their education—waiting tables, working in the library, moonlighting as birthday clowns—but these ventures are usually temporary. When Charity Hawk began doing nails in 1999 to pay for college, her client roster began to grow, rapidly. She says, "I realized then, this is what you go to college for," and being a nail technician became her career. Her clients, some of whom have been with her for more than 10 years, get pampered in the space Refuge at the Mill, formerly known as Nails by Charity, where dark hardwood floors and sheer black curtains balance stucco-textured walls, giving the salon an elegant, vintage feel. In mani-pedis enhanced with sugar scrubs and moisture masks, Charity coats nails with polish by OPI and formaldehyde-free Zoya as shiatsu massage chairs ease stress. Charity is most adept at working with acrylic nails, on which she uses only Entity products. Her years of experience have given her a talent for correcting acrylics gone awry without reapplying them, damaging the natural nail bed, or forcing them to go to detention.
80 N Hamilton Rd., Suite 5
Gahanna
Ohio
614-596-5757
For some salons, threading is just an afterthought—a treatment tacked onto a long list of services in an attempt to stay abreast of the latest trends. But at Exquisite Threading, the ancient Indian art is front and center, headlining a treatment menu that bears little else beyond facials, body waxing, and intricate henna treatments. The focus allows the shop's eyebrow artists, who average 10 years of experience, to concentrate on creating clean, elegant arches in an environment free from the din of blow dryers. The threading process relies solely upon the quick loopings of a 100% cotton string, which whisks away facial hair without the irritation of shaving or the seasonal limitations of bobbing for hot caramel apples.:
4034 Morse Crossing, Space W-108
Columbus
Ohio
614-428-4444
---