Theme & Amusement Parks in Zephyrhills
---
Theme & Amusement Park Deals
---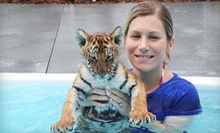 Animals including tiger, lion, panther, and bear attract attention of guided tours through zoo blanketed in botanical gardens
---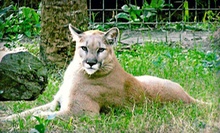 Nature park showcases rare breeds of panthers, bears, and jungle creatures in natural habitats during live exhibitions and guided tours
---
Theme & Amusement Park Rewards Deals - Use Anytime
---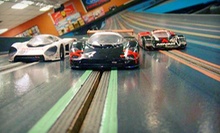 Slot cars careen around a 130-foot track in adrenaline-pumping races
---
Recommended Theme & Amusement Parks by Groupon Customers
---
Face off in rousing matches of beam-blasting and firm handshaking. With today's Groupon, $9 gets you three 15-minute light-slinging, laser-tag showdowns at Q-Zar, an $18 value. Serve and volley laser bolts across a darkened, fog-filled court in a tense match to see who is master of the laser and has the firmest handshake.Follow @Groupon_Says on Twitter.
7807 N Dale Mabry Hwy.
Tampa
Florida
US
Tampa Bay Grand Prix puts you behind the wheel of a true European-style electric OTL Pro-Kart. These easy-to-handle, durable, and reliable karts were designed specifically for rental and can reach speeds of up to 45 miles per hour—packing enough excitement to make the family sedan feel like a golf cart tethered to a mountain by a chain made out of iron recovered from a shipwreck. The OTL Pro-Kart's unique steel-tube frame provides security from red koopa shells and banana peels, while the track's state-of-the-art barrier ensures extra safety.
12350 Automobile Blvd.
Clearwater
Florida
US
Though the creatures on display at Dinosaur World don't need much space to roam, plenty of care has been taken to furnish them a comfortable habitat. They peer imposingly from the hillsides of Kentucky, crane their necks up through native trees, and stomp through prairie fields. Although a life-size mammoth or T. rex might be hard to miss, little visitors might still jump with delight at noticing a baby dino suddenly appear from behind a bush. Giant brachiosaurus necks arch high above treetops, while toothy meat-eaters and spiny stegosauruses roam the world below. The fiberglass, steel, and concrete models reach up to 80 feet in length, and are built according to the latest scientific discoveries about what dinosaurs looked like and what styles were trendy in the Mesozoic era.
The first Dinosaur World location was a former alligator farm in Florida and five years later another one was opened in Kentucky. As Swedish-born Christer Svensson began to fill it with statues, he consulted with experts around the world to not only create realistic reptiles but to surround them with fun, educational activities. Kids can sift through sand to find shark's teeth, gastropod shells, and trilobites in a fossil dig, get to know some lizards a little better on the playground, or examine ancient eggs and raptor claws in the museum.
5145 Harvey Tew Rd.
Plant City
Florida
Twice a month at Orlando Kart Center, drivers experience a personal rendition of the movie Speed: they zoom around the outdoor course for a full two hours, competing in an endurance competition. Each lap around the sinuous road covers .8 miles, forcing drivers to encounter bumps and stay within curbing as they accelerate up to 45 miles per hour. This event is just one of many breakneck offerings at the center, whose karts and expert staff immerse guests in an authentic racing environment.
Owner Andre Martins oversees the raceway with impressive credentials at his back. As the manager of the Tony Kart US racing team, he led drivers to multiple national championships. He has also raced alongside champions himself, traveling to countries such as Belgium, Canada, and Brazil to showcase his steering finesse and seatbelt-buckling capabilities. Today, he welcomes drivers of all experience levels to tackle Orlando Kart Center's course—including pro racecar drivers, who utilize the track for training. Drop-in customers contend against each other in 10-minute heats, companies rent out the road for forced team-building events, and kart owners can reserve hours for private practice. Online scoreboards log the fastest times by day, week, and month, compiling track records for patrons to challenge.
201 Parcel Ln.
Orlando
Florida
The passes can be redeemed during any regularly scheduled open-bounce play period. Check out the calendar to find a time that works for you. Possibilities include preschool play date, family bounce night, or all-ages open bounce. Open-bounce sessions may include music, flubber shoes, games, or snacks.
5419 Village Market
Wesley Chapel
Florida
BounceU transports kids to an inflatable, climate-controlled playground in which they can bounce from side to side in a safe, secure environment. During open-bounce sessions, kids can imagine they're Spiderman while climbing the new Spider Climb, or pretend they're synchronized leapers in Michael Flatley's Riverbounce as they carom around the inflatable stadium, expending energy with every leap. Cosmic Bounce sessions give jouncing juniors a much-deserved break from earthly leaping, allowing them to play under the violet glow of black lights and special-effect lights moving in coordination with fun music. Each cosmic bouncer receives a complimentary glow-in-the-dark accessory upon entrance, which can be used to light the way in a dark tunnel or light half the face to recreate Colonel Kurtz's monologue from Apocalypse Now. When a cause for celebration arises, parents snag party rooms and private bouncing rooms for their buoyant revelers. During summer camps, kids pair their bounce-based brand of performance arts with imaginative crafts.
The attentive BounceU staff monitor the rebounding facilities at all times, ensuring the inflatable playground is kept safe, clean, and free of spiky objects such as mohawks and sea urchins. Call ahead or check the calendar for available open-bounce times. Frolicking children must be supervised by a parent and must wear socks to play. Parents of children younger than 4 are welcome to join the vivacious youngsters in the playground.
3125 Orlando Dr.
Sanford
Florida
407-322-2200
---