Massage in Zionsville
---
Recommended Massage by Groupon Customers
---
Banish the worries lodged in the nooks of your joints and the crooks of your connective tissues, and restore your body to a nubile state of relaxed joyousness unlike any since you got your braces removed. With today's Groupon, you get a healing and relaxing one-hour massage at Focus Therapeutic Massage for $30. Grab your achy aunt and cranky cable guy and give them a treatment that will make them love you more.Follow @Groupon_Says on Twitter.
8711 Southeastern Ave
Indianapolis
Indiana
US
Massage is like a Snuggie for your soul, minus the shame and Doritos stains. It wraps you in warm fuzzies that relax your muscles and invigorate your spirit. Today's Groupon wipes away tension and snack crumbs with a healing touch. For $30, you get one of three types of massage at Common Source Massage, up to a $75 value. Choose a 60-minute Swedish/deep-tissue massage, a 60-minute hot-stone massage, or a 90-minute Thai yoga massage.Naturally, world powers began jockeying for access to the potentially weaponize-able massage, by means both diplomatic and unofficial. Many international observers believe that the 1992 Summer Olympics were, in fact, a complicated ruse carried out by Russia and the United States to distract Sweden long enough to steal its massage, as evidenced by the fact that Sweden won an unexpected 904 gold medals that year. Still, the Swedes held tight to the massage until 1999, when Y2K-related fears caused Swedish officials to release classified details of the massage, believing that the world would likely end. Today, the Swedish massage is practiced all over the world, though rumors that the Swedes are secretly working on an even better massage run rampant.
E290, 1060 N Capitol Ave
Indianapolis
Indiana
US
David Merriweather's massage skills don't just ease the muscle aches of office executives and busy parents—they were also fast, focused, and aggressive enough to land him a job as a massage therapist for Cirque du Soleil. With this experience under his belt, David's circus-trained hands dance over his clients' bodies to assuage pain through a gamut of massage modalities. His deeply relaxing Swedish massages utilize light to medium pressure and aromatherapeutic oils to loosen tension and stimulate circulation, and the warmth of heated basalt stones soothes multiple layers of muscular tissue during hot-stone massages. For relief from deep-seated aches, pains, and sinew skirmishes, David wields the pinpointed pressure of deep-tissue massage or trigger-point therapy. Sports massage helps to increase the range of motion of athletes and puppets who wish to become real.
5501 E 71st St., Suite 1B
Indianapolis
Indiana
317-258-2591
---
---
Massage Deals - Recently Expired
---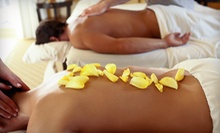 Therapists use hot stones, aromatherapy, and Swedish-massage techniques to relieve tension
---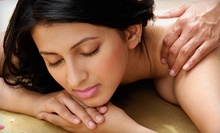 Tranquil colors, soft sheets, and patterned pillows set the stage for soothing and soul-reviving Swedish, deep-tissue, or sports massages
---
---