A First-Timer's Guide to Rock Climbing
BY: MAE RICE | 7.18.2013 |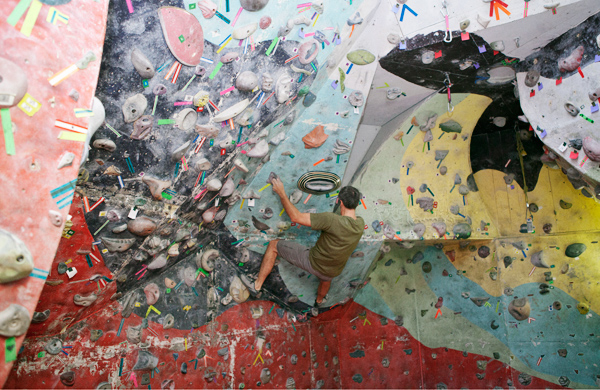 According to manager Dave Hudson, Hidden Peak Climbing Gym is "a climber's climbing gym." If this sounds like a boast, allow Dave to explain further: it's a climber's climbing gym "in the sense that it's tiny, it's dirty, it's in the basement."
Dave's right, of course. Hidden Peak is the kind of place you expect to find seasoned climbers, not uncoordinated novices like myself (during Pilates class, I fall over while already lying flat on the floor). Every inch of wall is covered in brightly colored handholds, with routes that change regularly to reward frequent visitors, of which there are many. So many, in fact, that the gym can get crowded on evenings and weekends.
Yet in spite all of that, Hidden Peak has earned a reputation for welcoming beginner rock climbers, with recreational climbing open for kids as young as 5. And though nights and weekends may get crowded, there were only a couple of people there during my lunchtime visit. This spared me quite a bit of embarrassment as I tried my hand at bouldering, the gym's signature climbing style.
Because you never get more than 10 or 12 feet off the ground, bouldering doesn't require harnesses or gear, making it feel a bit more accessible to those who have never climbed before. The main focus in bouldering is on moving sideways, and the main challenge is "sequencing," which Dave described as "a chess game about where I should step, what holds I should grab."
I also tried out the gym's 20-foot top-rope course. Top-rope climbing is more gear intensive, requiring a harness, rope, and belayer (a person on the ground who holds the other end of the rope to make sure you don't fall). In an amazing turn of events, I got all the way to the top of the top-rope course—twice! And along the way, I managed to amass quite a few rock-climbing tips for other first-timers like me.
1. ALL HANDHOLDS ARE NOT CREATED EQUAL
Some handholds are so tiny, they serve as more of a visual reminder than something you can actually hold. Other handholds are huge and shaped like noses. And just like with noses, bigger is better.
2. KEEP YOUR WEIGHT ON YOUR FEET
Your hands get tired faster than your feet, so try to limit the work they have to do. Also, once your hands get truly tired out (if yours are anything like mine), they start twitching. But that's sort of fun, too—it's like they're haunted!
3. GET CORNERED
If you are bouldering and reach a corner, take a breather there. With one leg on one wall and the other leg on another wall, you will feel stable and happy.
4. DRESS THE PART
Dave recommends wearing loose-fitting clothes that you can move in easily.
5. DON'T WORRY—THE MATS ARE REALLY SOFT
I accidentally jumped off the bouldering wall at a height that seemed superhigh (to me—I was probably only 6 feet up). It was fine. Dave pointed out that jumping from anywhere in the bouldering area is safe, though for the softest landing, be sure not to lock your knees.
6. PUT ON A HARNESS (EVEN IF YOU'RE NOT CLIMBING)
Harnesses have three loops: one around each of your legs and one around your waist. Wearing one is like getting a hug from three different short people. It is a very secure and nurturing feeling, which will help calm any pre-climb jitters.
7. EXPECT A SAFETY CLASS BEFORE YOU HIT A TOP-ROPE COURSE
Dave noted that before climbers try a top-rope course at any new gym, they typically need to take a safety course on proper belaying techniques, knots, and other fundamentals.
8. KNOW YOUR OPTIONS
Hidden Peak is a great gym for beginners. "A lot of the better climbers in Chicago train here," Dave explained, "but we also try to be superopen and friendly". Every bouldering wall, for example, has a beginner route on it.
However, there are other beginner-friendly gyms in Chicago, too. Dave recommended the Fitness Formula Clubs walls in Old Town and Oak Park, as well as the Chicago Athletic Clubs climbing walls, available at the Lakeview and Lincoln Park locations.
BY: Mae Rice
Guide Staff Writer
Mae Rice is a Groupon Guide staff writer who writes about eyelash extensions, French food, what "business casual" even means, and other style and food topics.