Be the Life of the Party with These Storytelling Tips from 2nd Story's Bobby Biedrzycki
BY: Will Landon |
Nov 11, 2013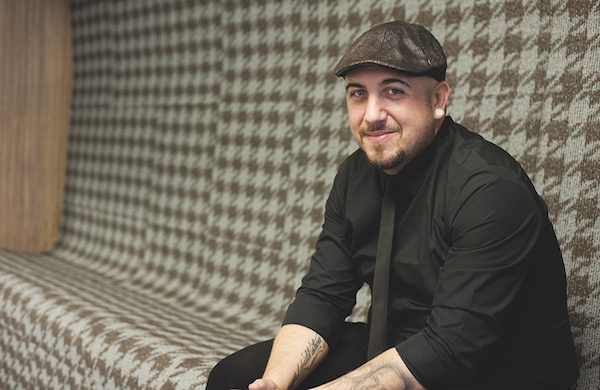 "So we're sitting on the sofa making out, and all of a sudden her dad walks in on us. I actually met this guy two months earlier—he's a retired Marine colonel. When I met him for the first time, he made us put our arms next to each other, and then he put a
lit cigarette
between them."
Bobby Biedrzycki
's eyes widen as he relates a harrowing tale from his teenage years. The Columbia College Chicago professor and director of programming at
2nd Story
finds pleasure in the particulars of good storytelling—getting the details right, ratcheting up the tension, and pausing just before delivering the punch. A storyteller by trade, Biedrzycki has racked up plenty of experience in his craft. His company uses
Webster's Wine Bar
(1480 W. Webster Ave.) as its primary stage, packing the bar with eager listeners on the second Sunday and Monday of each month. The agenda at these storytelling events is simple enough: performers relate personal narratives based on the night's theme while the audience drinks and dines. But Biedrzycki explains that 2nd Story gets its name from the idea that the performers tell only the first story of the night. The second (and third and fourth) unfolds later, as audience members begin to regale one another with tales of their own. Of course, not everyone is blessed with Biedrzycki's storytelling talents. This is a shame because such talents often prove even more useful off the stage. There's no way to endear yourself to a group of strangers like telling a great story, and many an awkward moment can be salvaged by a tale told from the heart. Thankfully, Biedrzycki has offered up a few tips for telling a compelling story, whether beside the water cooler or over a pint of beer.
1. Start in the middle of the action.
According to Biedrzycki, it's best to start a story in the midst of "a dramatic moment." The technical name for this is
in media res
, and it's a trick that storytellers from Homer to Martin Scorsese have relied on. "We rarely start stories at the beginning," Biedrzycki explains, noting that it's easy to fill in the details once you've established tension.
2. Make sure your story has a point.
In order to tell a great story, Biedrzycki says, you have to "connect to some reason why you're telling it." Has someone just said something to trigger your story? Will the story make sense in the context of your current conversation? When he's gearing up to tell a story, Biedrzycki always asks himself, "How did this contribute to my development?" To put it a little differently, there's a "reason why there are thousands of days of grade school we all went through and maybe six that actually stick with us."
3. Use your energy to fill the space.
"Enunciation and volume ... are always important," Biedrzycki admits, "but with a bigger space, it really becomes about energy." Your presence should reach everyone you're speaking to, whether you're seated at the dinner table or standing in the back of a concert hall. "Sometimes that means eye contact, [and] sometimes that means exaggerated body movement."
4. Nerves can be your friends.
Biedrzycki describes his ideal mindset before launching into a story: "I want to be a little bit nervous—not in a frightened way, but in an excited way." If your nerves are threatening to get out of hand, "take [a] moment to think of a specific person to whom you're speaking." Biedrzycki sometimes tries to forget about his audience and pretend that he's just talking to a best friend.
5. Look for inspiration everywhere.
Biedrzycki finds much of his inspiration in the world around him. Sometimes, his trigger can be as simple as overhearing high-school students conversing on the train. He also finds inspiration in other peoples' art. After listening to rapper Kendrick Lamar's
Good Kid, M.A.A.D. City
a few months ago, he tried out a personal narrative that mirrored the album's lyrics by jumping back and forth in time. "I think it went well," he reflects. "People wanted to hang out and talk about it afterward."
6. Get out there and tell your own stories.
Chicago offers plenty of storytelling opportunities. Some demand rehearsal, while others require nothing more than a little improvisation. To get your story out there, Biedrzycki recommends attending open-mic series such as
Do Not Submit
at
Powell's Bookstore
(2850 N. Lincoln Ave.). Another Powell's reading series,
Guts and Glory
, requires performers to reveal their gutsiest, most shocking stories. It might not always be pretty, but it's a good way to get more comfortable with your storytelling voice.
Photo: © Timothy Burkhart, Groupon
BY: Will Landon
Will Landon is a Chicago-based writer who sings punk rock songs with the Blue Ribbon Glee Club and occasionally works for free as an assistant stage director.