Beer Stalker: Evil Twin Brewing's Imperial Biscotti Break
BY: Cody Braun |
May 23, 2013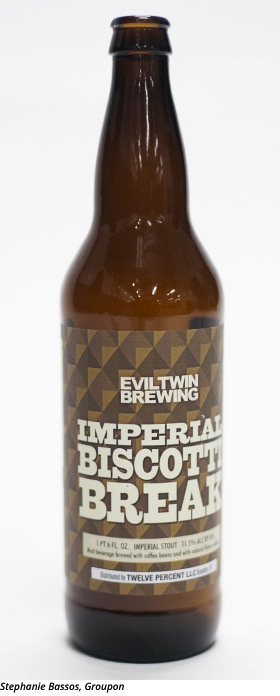 There are almost 3,000 craft breweries in the United States. In this edition of Beer Stalker, we stumble upon Evil Twin Brewing's Imperial Biscotti Break and talk to the brewer about why it's unlike any Danish macrobrew and why he's shopping for donuts.
The beer:
Imperial Biscotti Break from
Evil Twin Brewing
The style:
Imperial stout, but cut by the sweetness of vanilla and the earthiness of coffee. "We actually add the coffee during the brewing process," says Evil Twin owner Jeppe Jarnit-Bjergsø, "and don't just add coffee to the finished beer. It gives a better integrated coffee flavor."
Color:
The perfect, glossy black of a bowling ball given to you at a mysterious crossroads
Hops:
"Magnum, and only for bittering," Jarnit-Bjergsø says, "as we weren't looking for any specific hop character."
What makes this stout imperial?
Imperial stouts, compared to their conventional-stout cousins, have a more potent alcoholic kick and an intense, almost-burnt flavor from dark malts. In Imperial Biscotti Break, an alcohol content of 11.5% does indeed hide behind dark curtains of almonds and vanilla. Earthy espresso lends to a layer of carbonation that resembles the crema on a shot of espresso and mingles with that dark barley. Evil Twin has
other ideas
about what makes Biscotti imperial, though: "Some might argue the Emperors were brutal, mad and hungry for power, and the people vain when taking baths and working out all day. Listen—that's still all part of the secret Imperial ingredient—keep it cool, clean, confident, arrogant and flamboyant."
Should I drink this by a fireplace?
Yes, says Jarnit-Bjergsø. That, or you should sip it with dessert. The Evil Twin crew has crafted small batches of an even more dessert-friendly version called Donut Break, brewed with actual donuts. "The challenge is to find enough donuts at a feasible cost," he says.
Try it if you like:
Old Rasputin
or any other dark beer potent enough to serve in a snifter. Even an adventurous Guinness drinker could fall in love with this beer quickly, as might anyone with an affection for the earthy complexity of coffee or cigars.
Is there some way to explain this beer with a charming underdog story?
Yes. The Danish brewing scene was dominated by a few a giants until relatively recently. Especially overseas, shelves filled with Carlsberg did not lend much hope to spunky craft brewers. Over the course of the last several years, though,
Mikkeller
, Evil Twin, and other small brewers have defied expectations, cranking out a wide variety of exciting beers like Biscotti Break. They've done this both on their own and in collaborations with American powerhouses such as
Three Floyds
and
Stillwater
.
Where you can find it around Chicago:
Maria's Packaged Goods & Community Bar
| 960 W. 31st St.
Northdown Cafe and Taproom
| 3244 N. Lincoln Ave.
Local Option
| 1102 W. Webster Ave.