Farm to Table: Berkshire Pork from Heritage Hogs
BY: Anna Skorczeski |
May 24, 2013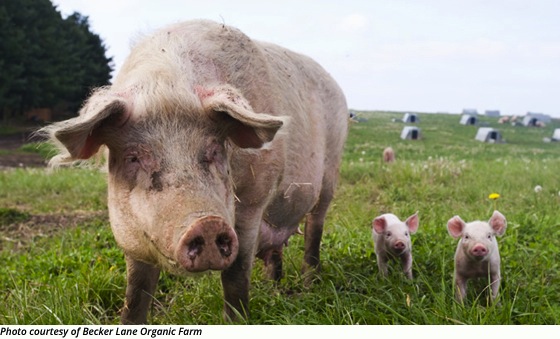 The National Pork Board launched its famous "The Other White Meat" campaign in 1987, comparing the leanness of modern pork to that of skinless chicken breasts. But pigs are meant to be fatty, marbled, flavorful creatures, and the farmers of berkshire pigs and other heritage breeds are working hard to revive that tradition. They provide their livestock with pastures to roam in and natural nesting spaces, modeling themselves on the bucolic European farms of yesteryear instead of the industrial swine factories of today. The final product is juicy meat—deep pink in color, not white—that many Chicago chefs seek out for their grills, skillets, and roasting pans.
Faith's Farm | Bonfield, Illinois
When Kim Snyder traded in corporate life for country life, she sought out the farming wisdom of older generations. Aunts, uncles, and other sage advice-givers taught her traditional methods for raising heritage pigs, which means letting them wander free in pastures and live in natural herds. Kim also allows her piglets to wean themselves from their mothers, even though this method yields fewer litters per year. Commercial feedlot piglets may get separated from their mothers after two to five weeks, but the piglets at Faith's Farm get to take their sweet time kicking the milk habit—anywhere from 16 to 20 weeks. The end result of all this TLC is tender, succulent, marbled pork.
Monica Eng of the Chicago Tribune
often writes glowingly about Faith's Farm and the work Kim does there, recently calling her wares "the finest pastured local Berkshire pork I know." Chicago chefs get the opportunity to meet the meat during Kim's yearly
Butcher and Booze bash
, a private dining and demonstration event on the farm aimed at promoting a close relationship between chefs and local food producers.
Pork Pro Pick:
Kim's favorite cut is the shoulder. For a dream meal, just throw that dark, marbled piece of meat on the barbecue and grill it up like a steak. Get your Faith's Farm pork on at:
The Gage and Henri | The Loop
Housemade pâtes served with toast or hand-crafted sausages with crisp potatoes, brie, and grain mustard
Portage Park Farmer's Market | Portage Park 61st Street Farmers Market | Woodlawn
Buy fresh cuts of meat from one of Kim's farmers' market booths. Also, pick up soaps, moisturizers, and balms made from Faith's Farm lard and beeswax. "I don't waste a speck!" she says.
Becker Lane Organic Farm | Dyersville, Iowa
The Becker family has been farming Iowa land since 1850. In 1997, Jude Becker started raising certified organic crops, and in 1999, he added organic pigs to the mix. Today, the farm's berkshire hogs dine on homegrown organic corn, foraged acorns, grain and hay from the pastures, and organic feed. By rooting around in the fields, they actually help to till the soil, nip weeds in the bud, and fertilize the ground for the next season's crops. And during the winter, Jude sets up network of insulated huts so the pigs can stay outside while still being protected from the elements. It's an all-around win for Mother Nature. Just like at Faith's Farm, these extra steps in animal care and land stewardship make for remarkably tasty cuts of pork.
New York Times
food columnist and author
Mark Bittman
once wrote that "Becker's pork is among the best I've ever had," and
Top Chef
finalist Sarah Grueneberg has showcased Becker Lane pork at local farming dinners.
La Quercia
, a much-lauded Iowa meat-curing outfit, uses Jude's berkshire–chester white meat for its Green Label organic prosciutto, the only one of its kind available in the United States.
Pork Pro Pick:
Jude loves
the Publican
's porchetta sandwich so much, he'd make it his last (pork-based) meal on earth. Get your Becker Lane Organic Farm pork on at:
The Purple Pig | The Loop
Berkshire pork chop with greek fava-bean salad and greens
Spiaggia and Cafe Spiaggia | Gold Coast
Braised berkshire pork–filled pasta in brodo or pizza topped with La Quercia prosciutto and cremini mushrooms
Green City Market | Lincoln Park
Catch chefs roasting whole berkshire pork middles for sandwiches at the market. Pick up some chops to recreate the Purple Pig dish listed above with
this recipe
from ABC 7 News.
Still Can't Decide? 
The
butcher shop
at Publican Quality Meats in Fulton Market stocks as many as four or five varieties of pork at any given time, including whole hogs from both Faith's Farm and Becker Lane Organic Farm.
BY: Anna Skorczeski
Guide Staff Writer
Raised in Minnesota and schooled in Wisconsin, Anna is now a well-traveled eater and amateur bassoonist.
Health & Fitness Deals in Chicago