Five Chicago Foods We're Thankful For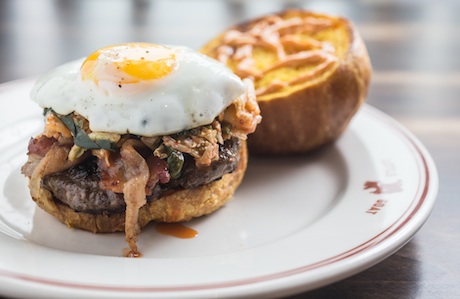 Give thanks to Chicago's vast, diverse, and inventive foodie scene with this turkey-free list.
1. Steak Jibarito from Papa's Cache Sabroso (Humboldt Park | 2517 W. Division St.)
Why we're thankful: Because we love inventing stuff. Especially stuff to eat.
America may not have spawned classical music or impressionism, but throughout our history, we've been on the forefront of ridiculous-sandwich technology. Ingredients and people from around the world met here to create the reuben, the monte cristo, even the KFC Double Down. The jibarito, a sandwich born in Humboldt Park, typically has not gotten its due as the pinnacle of American sandwich innovation. The jibaritos at Papa's Cache Sabroso in Humboldt are fairly typical: they're built upon surprisingly sturdy fried green plantains instead of bread and sport a thick smear of mayo. The crisp plantains give way to chewy steak, and a few bites are enough for most people to realize what they've been missing. –
Cody Braun
2. Korean Burger at Little Goat Diner (West Loop | 820 W. Randolph St.)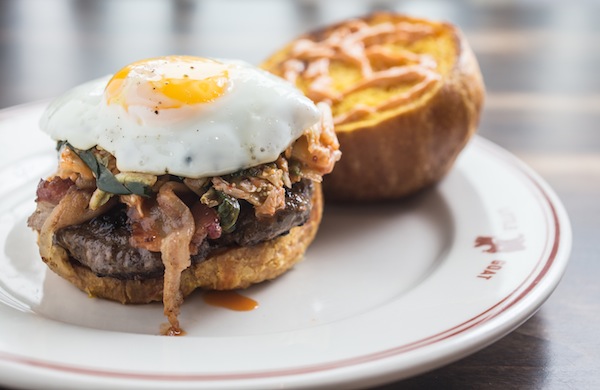 Why we're thankful: Because burger patties are our favorite canvases
. They don't take reservations at Stephanie Izard's latest restaurant, Little Goat Diner, so it was with amazing luck that my husband and I snagged seats at the attached coffee shop amid the Sunday-afternoon rush. This space serves the full diner menu and perhaps the best bloody mary of my life (kimchi is a wonderful thing). It inspired my lunch selection of the korean burger, which comes with your choice of patty: 
Slagel Family Farm
 beef, 
Kilgus Farmstead
 goat, or veggie. I chose goat. This, topped with bacon, a fried egg, spicy mayo, and heavenly mounds of kimchi, made for an extremely rich, messy burger, with the brioche-like bun acting as its airy counterpart. The dish was beyond filling, but being in full view of the bakery counter forced our hand in grabbing a few rustic loaves and Mexican conchas on the way out. – 
Carolyn Alterio
3. Cherry Strudel from Oak Mill Bakery (Niles | 8012 N. Milwaukee Ave.)
Why we're thankful: Because we love to make food into portable shapes.
Pie may be round, but strudel takes fruit-filled pastry to the next level: cylindrical. This traditional European dish shines above its all-American counterpart because you can see and crave the sweet fruit filling before you even take your first bite. At Oak Mill Bakery, the strudel comes packed with cherries, apples, or cheese. Each slice of my cherry strudel overflows with whole cherries from within a thin, flaky shell. A sugary glaze quenches the tart flavor of the cherries and begs me to take just one more bite.
– Stephanie McDaniel
4. The Combination Entree at Salam Restaurant (Albany Park | 4638 N. Kedzie Ave.)
Why we're thankful: Because we get bored easily.
I love to eat, but often I get bored with my food before I get full, so this selection at Salam is perfect. A mound of yellow rice lies next to a pile of four different kinds of meats—beef shish kebab, lamb and beef kofte, chicken shawarma, and chicken taouk—as well as a serving of zesty jerusalem salad. It's enough to entertain my tastebuds for dinner and have an encore the next day for lunch. And Salam's hummus is good enough to make a meal on its own. –
Aimee Algas Alker
5. Robata from Sumi Robata Bar (River North | 702 N. Wells St.)
Why we're thankful: Because even dinner should have an element of danger.
Digging deep into Japanese tradition, the chefs specialize in
robata
, meats or vegetables cooked over a special wood charcoal grill. Their selection includes teriyaki salmon, skirt steak, pork jowl, and a tsukune slider: hamburger-like beef with miso mustard on a steamed bun. Each is seasoned perfectly with a light dusting of sea salt or spice, but the best is probably the skirt steak. The morsels are tender and slightly pink in the middle. Sumi's Japanese seven-spice blend, on hand in a small ceramic pot, adds a subtle kick. –
Will Landon
Read why Chicago Reader's Mike Sula recommends Sumi Robata Bar.
Photo credit: Huge Caldones