Smartphone Accessories Buying Guide
BY: GROUPON EDITORS | 7.17.2015 |
From cases to camera attachments, there's an entire industry devoted to making your smartphone even smarter. It's so large, in fact, that knowing where to look or what to buy can be daunting. In this guide, we lay out the five most useful types of cell-phone accessories to help you find the best one for your phone, life, and personal style.
1. Cover It: Cases and Screen Protectors
The kind of cell-phone case you buy (and you should buy a case, unless you're a fan of that edgy smashed-screen look) depends on a number of factors. The model of your phone is the most important, as cases are specifically designed for a particular device.
But there are other things to consider: Is style important to you? How many times have you dropped your phone in the last six months? Do you take your phone on outdoor adventures, or are you more likely to stay in for a Netflix marathon? The answers to these questions will steer you toward one of two case types: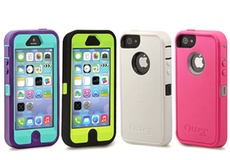 Protective Cases: Whether they're made of silicone, plastic, polycarbonate, or a hybrid of materials, these cases prioritize protection over aesthetics. They're usually bulkier and heavier than their less-protective counterparts, but they can better insulate phones during accidental bumps and drops. For extra safeguards, look for cases with button covers and built-in screen protectors.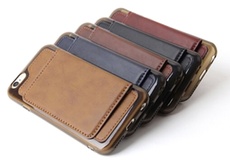 Aesthetic Cases and Covers: If fashion is important to you (and you rarely drop your phone), go for a case that suits your personal style instead. Options range from simple plastic, silicone, or even wood cases that provide light protection to adhesive skins that only change the look of the device. All are designed to look great, and some even do double-duty: wallet cases can hold cards and cash along with your phone, bottle-opener cases can crack open a cold one between texts, and kickstand cases prop up the device when you want to watch videos.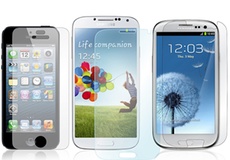 Screen Protectors: Whether or not you use a case, a screen protector is always a good idea. The most common types are either made of a very thin, flexible plastic or tempered glass. Protectors made from tempered glass can be a bit bulkier, but they're sturdier and more protective, and most come with the oleophobic coating, so they feel more like the original screen.

2. Juice It Up: Chargers and External Batteries
A full schedule can mean too much work for your phone—leading to dead batteries, which can keep you from knowing how many people liked your witty Facebook status. Don't be beholden to the charger that came with your device; instead, take advantage of cell-phone chargers designed to make powering up faster, more accessible, and more convenient.
Rapid Chargers: If you've ever used a cheap charger from a drugstore, you know not all chargers are created equal. A low-amperage charger can make repowering your battery take forever, whereas a rapid charger can shrink a four-hour charging session down to an hour or less. You'll usually get faster charging from a charger that delivers speeds of 2A (or 2,000mA) or more, though some rapid chargers reach speeds of up to 4A.
Wireless Chargers: If you're sick of fumbling with USB cords, a wireless charger might be for you. Usually in the form of a tabletop mat or cradle stand, these products simply require you to place your device on them to recharge the battery. Note: Wireless chargers only work if your device was designed for wireless charging. Also, there's no unified technology standard for wireless chargers—the most popular standards are Qi and PMA, but there are others—so each charger will only work with a handful of phones and tablets. Check to make sure yours is compatible before buying.
Charging Cases: To all but eliminate the need to plug in your phone during the day, try a charging case. These double-duty devices come with a built-in battery that stays plugged into your phone the entire time it is in the case. Some models can extend your phone's battery life by up to 100%.
External Batteries: If you constantly find yourself away from a wall outlet, an external battery could be your best option. There are generally two types: pocket-sized batteries that hold about 1 full battery charge, and larger, heavier models that hold anywhere from 2 to 10 (or more) full charges. Pocket-sized models won't weigh you down, so they're perfect for those who don't carry a bag or purse, whereas a larger model can charge multiple devices at once, making it best for those who tend to carry around numerous mobile devices. External batteries recharge via a wall outlet in the same way a smartphone does, so they can be reused over and over again.

3. Stay Connected: Bluetooth Accessories
Bluetooth technology lets you connect wirelessly to a wide range of cell-phone accessories. Bluetooth 4.0, the technology's latest iteration, comes in several standards that include classic, low-energy (LE), and a combination of the two. Classic Bluetooth is designed for devices that need to stream large amounts of data continuously, such as headphones, while Bluetooth LE can send small amounts of data intermittently, such as to a smart tag that keeps track of your purse or keys.
Wireless headsets, which work on the classic standard, might be the most popular of smartphone Bluetooth accessories. Like anything, the headset you choose depends on the way you use it. How often you talk on the phone should determine the battery life you look for; an easy way to determine this is to check your phone's recent call logs and calculate a daily average talk time, then find a headset whose battery life matches it. Don't overestimate too much: a bigger battery means a bigger device.
What you do when you talk should factor in as well. If you stay mostly stationary, a headset that slides on with just an ear hook should work well, whereas active talkers should look for a device that doubles up with both an ear hook and a in-ear silicone tip.
Bluetooth Compatibility Chart
| | | | | |
| --- | --- | --- | --- | --- |
| Version | Transmission Rate | Range | Backwards Compatibility | Special Features |
| 2.0 + EDR | 2.1 Mbps | Up to 33 ft. | Compatible with all previous models | EDR (Enhanced Data Rate) for faster data transfer |
| 2.1 + EDR | 3 Mbps | Up to 33 ft. | Compatible with all previous models | EDR (Enhanced Data Rate) for faster data transfer |
| 3.0 + HS | 24 Mbps | Up to 33 ft. | Compatible with all previous models | HS (High Speed) supports faster transfer rates over WiFi |
| 4.0 + LE | 25 Mbps | Up to 200 ft. | Compatible with all previous models | LE (Low Energy) for continuous transfer to low-power devices, such as heart-rate monitors |

4. Take Great Photos: Camera Attachments and Selfie Accessories
There was a time when phones couldn't take anything more than tiny, grainy images. That time is long gone. Mobile manufacturers have refined and amplified the power of their cameras, and now there are more photos on Flickr taken by smartphones than standalone cameras. But as fabulous as your phone's camera is, there are lots of camera attachments and selfie accessories that can make your photos bolder, your zooms sharper, and your pictures of you even more flattering.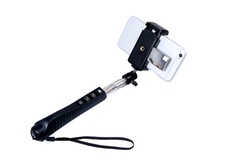 Selfie Sticks: Love them or hate them, it seems selfie sticks are here to stay. The trend is understandable: it's hard to get all your friends' faces into the frame if you're limited by the length of your arms. As simple as they sound, though, selfie sticks can vary widely. More basic options do no more than hold your phone, requiring you to use your phone's timer setting to snap a shot. Mid-range models plug into your device and give you control from a remote on the bottom of the stick. On the higher end, you'll find sticks equipped with Bluetooth that let you mount your phone and take a shot, no cords required.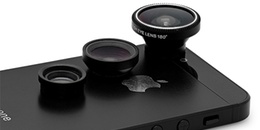 Lens Attachments: These pocket-sized optics clip on to your mobile device's camera, making it possible to take in a landscape with a wide-angle shot, distort the scene with a fisheye effect, or shoot extreme close-ups with a macro lens. Though the products are easy enough for a novice to use, they're especially good for those with a knack for photography who want pro-level photos without having to lug a DSLR everywhere.

5. Prop It Up: Mounts and Stands
Whether you use your phone to browse social media or just prop it up to binge-watch a show, cell-phone mounts and stands come in handy. At their simplest, they're multitasking tools, freeing your hands to eat, drink, or (more importantly) drive. At their most advanced, they can do anything from charge the battery to stream music. These products fall into two categories, and, like anything, the one you buy depends on the way you'll use it.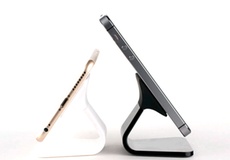 Stands: Loosely defined as anything that will hold your device upright on a flat surface, stands are great for people who like to prop up their smartphones in bed, on the coffee table, on a desk next to their computer … you get the idea. Inexpensive versions range from soft, wedge-shaped beanbags crafted from slide-resistant material—perfect for watching YouTube in bed—to plastic easels that fold up for travel. Higher-end stands include tripods with an adjustable height and angle, and docks that both prop up your phone and charge its battery.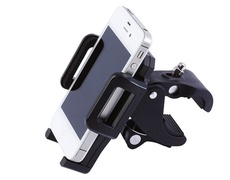 Car and Bike Mounts: Mounts can affix your smartphone to virtually anything. For those who turn to their smartphone for driving directions, a car mount is invaluable. These sturdy accessories latch on to your dashboard, windshield, or air-conditioning vents to keep your hands on the wheel and your screen at a comfortable viewing angle while you drive.
If you tend to skip four-wheeled transport for a bike or board, there are a bevy of more outdoor-friendly options. Bike mounts hang on the handlebars while you ride, keeping your phone in a convenient, glance-able position that doesn't require reaching for a bag or back pocket. Helmet mounts, on the other hand, are all about being hands-free to film extreme adventures from your point of view.

BY: Groupon Editors
https://groupon.com/goods
From buying guides to trend forecasts, we cover everything you need to know about your favorite products. Shop great deals on housewares, electronics, and beyond on Groupon Goods.