Four Spots to Refuel after Getting Sporty in Lincoln Park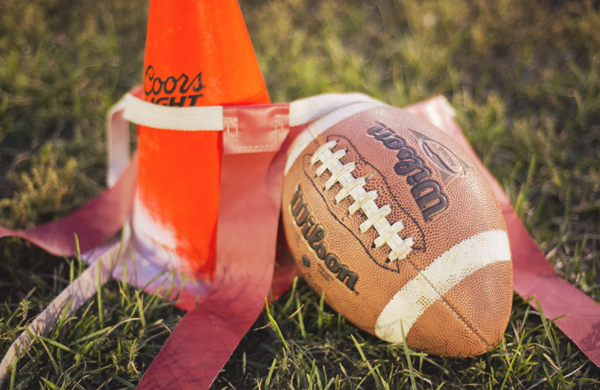 Roughly 48 hours after the first day of fall, the southern tip of Lincoln Park was already abuzz with autumn's arrival: red and yellow leaves rattled in the trees, a brisk breeze swooped through the park, and a referee stood at a line of scrimmage counting the seconds until a linebacker could rush a quarterback. One Coors Light. Two Coors Light. Three Coors Light.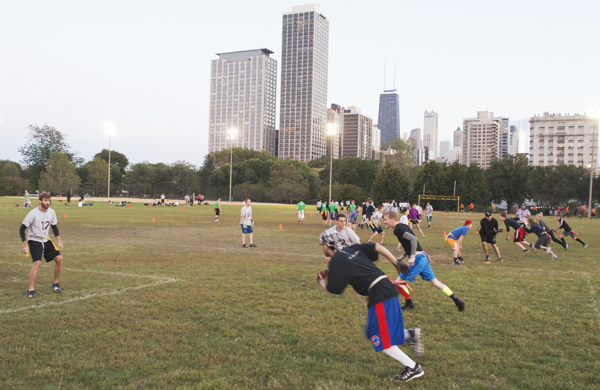 It's Week 2 of the flag-football season, and the games are taking place on the south field's five softball diamonds, a vast plot of grass and dirt shared by men's and coed leagues from sports clubs such as
Chicago Sport & Social Club
and
Players Sport & Social Group
. The coed game I'm watching in one of the outfields is almost over. The team that's losing epitomizes the recreational spirit: beers at halftime, a team name that borders on vulgar, and a rapport that comes from playing together for seven seasons. One of its players, Juan Mario Lopez, wishes they'd run the flea flicker more. When asked why they don't, he sighs, "Because nobody wants to be creative."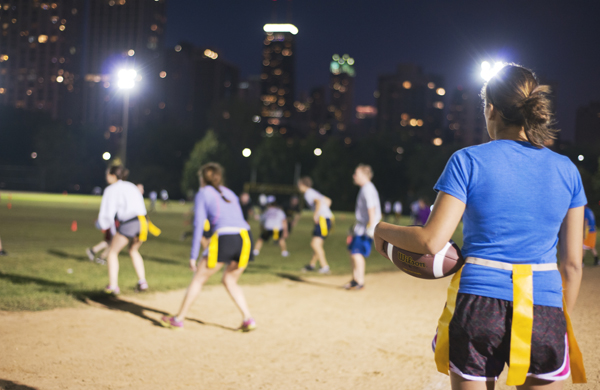 For each game, there is a winner and a loser, though the losing team's spirits don't sink too much. At the game I'm watching, a few players crack open beers, one has to catch a train to Aurora, and several say they're going to
Merkle's Bar & Grill
(3516 N. Clark St.) in Wrigleyville. But you don't have to travel that far to grab a bite or drink after an active day in the park. Here are four within walking distance:
R.J. Grunts (2056 N. Lincoln Park West)
The first-ever
Lettuce Entertain You
restaurant may be more than 40 years old, but the chefs there still know how to griddle up a good burger. The menu's dozen or so half-pound patties boast toppings from fried onions and blue cheese to poblano chilies with chipotle mayo—perfect for a hearty feast after a game. Casual green-checkered tablecloths and art in mismatched frames keep the place true to its laid-back 1970s roots.
Old Town Ale House (219 W. North Ave.)
The standout feature of this Old Town dive is not the drinks but the decor. Between sips of cheap beer from the cash-only bar, visitors here stare down nude portraits of politicians and public figures, often depicted in the midst of some R-rated act. It's not everyone's cup of tea, but the drinks are cheap and the venue is
Roger Ebert–approved
. Besides, the murals might be a good conversation starter for teammates who don't know one another well.
Del Seoul (2568 N. Clark St.) 
For an Asian twist on standard postgame fare, try the korean barbecue tacos at this casual fusion spot. Stuffed with fillings from tempura-battered fish to kalbi, or grilled beef short rib, its handhelds are sure to satisfy—especially if you have a thing for kimchi. If members of your team still have tummy room, consider trying Del Seoul's take on cheese fries, smothered in cheddar, pork belly, and kimchi. [
Read about our rules for Chicago cheese fries.
]
Lito's Empanadas (2566 N. Clark St.)
There might not be a better pregame snack than an empanada. Bigger than bite size, but still small enough to digest quickly, these savories won't slow you down on the field. Lito's deep-fries its version, which gives each bite a satisfying, crisp crunch and each to-go bag minor grease stains. Serious Eats
recommends
the Chori-Cheese, with its "balanced" sausage and cheese filling, but standard beef, chicken, and spinach all get high marks, too.
Nathalie Lagerfeld contributed to this article.
Photo: © Timothy Burkhart, Groupon