"Game of Thrones'" Hodor Shares One Love, One Hate, and One High-Octane Daydream
BY: STEPHANIE MCDANIEL | 6.16.2014 |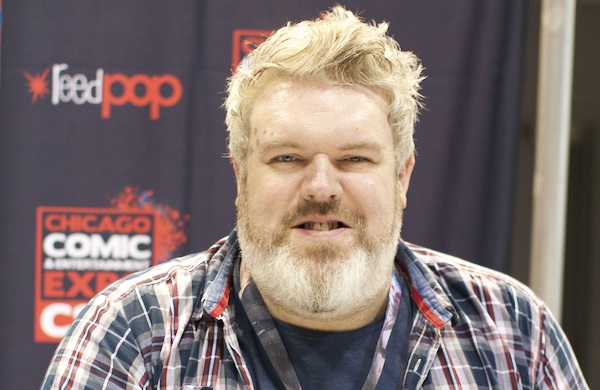 On Sunday's season four finale of HBO's Game of Thrones, lovable hulk Hodor (Kristian Nairn) got to demonstrate his brute strength by fighting off a hoard of ice zombies. We caught up Nairn a few weeks ago at the Chicago Comic & Entertainment Expo. Eschewing his character's traditional one-word response—his own name is the only thing Hodor ever says—Nairn sounded off on a handful of miscellaneous topics.
Of course, we imagined his responses as a few of the many translations of "Hodor."
Hodor Loves:
"Twilight. No, I'm only joking. That might be a guilty pleasure, actually. I kind of do like Twilight. I'm very ashamed of that."
Hodor Hates:
"Cauliflower. It's like a f--king brain. It tastes of death. It's just completely pointless."
Hodor Wishes:
"To film a high-speed car chase. [But] that's not going to happen in Westeros."
Maybe next season, gentle giant.
Photo: Stephanie McDaniel.
BY: Stephanie McDaniel
Guide Staff Writer
Stephanie McDaniel is a political theorist-turned-novelist from South Carolina. On the rare occasion she's not writing, she spends her time folk dancing, singing, and adding sea salt to Lake Michigan.