Meet the Polar Bear Plungers
BY: Emily Wachowiak |
Jan 17, 2014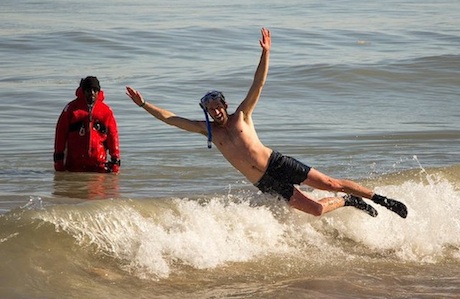 We give you the vital stats on five individuals brave enough to jump in Lake Michigan—in January.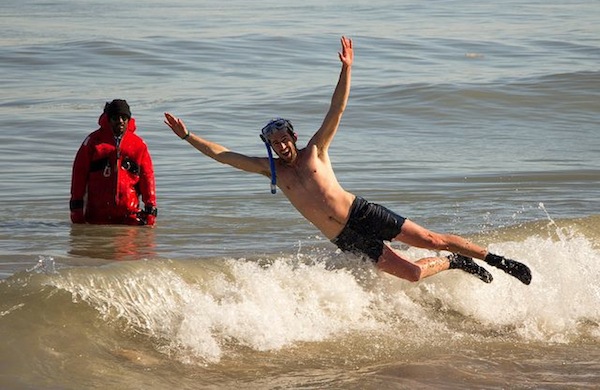 The recent "polar vortex" has many Chicagoans dreaming of sunny beaches—just not those around Lake Michigan. But on January 25, hundreds of brave souls will dive into those icy waters as part of
The Lakeview Polar Bear Club
's 14th annual Polar Plunge. This "Celebration of Shrinkage" is not merely an activity for the insane; it's also an important fundraiser for two
local families
impacted by severe medical challenges. Last year, 440 Polar Bears raised $81,500, and this year, event founder Brian Marchal hopes to blow that number out of the water. To accomplish this, he's enlisted his army of volunteer jumpers to collect funds as they prepare to show off their swim trunks and Speedos to the crowds on Oak Street Beach. We reached out to five of these seasoned and novice Polar Bears to learn their plunge survival strategies and assess their mental health.
THE VETERAN: Ken, Age 27
Number of Polar Plunges:
2
Plunge ensemble:
As of the last plunge, I am an official Speedo owner.
Pre-plunge routine:
I strip down early. Letting my body adapt to the cold air before the cold water helps reduce the shock jumping into the cold water. [Doing] some jumping jacks right before the plunge not only gets your blood pumping but also shows people around you that you are a seasoned pro and possibly mentally unstable.
Longest time spent in the water after a plunge:
Three minutes. I had to help a friend who lost his glasses. They were ultimately claimed by the icy depths of Lake Michigan.
Favorite way to warm up after a plunge:
The after-party, obviously. [It] won't just warm your body, but it will warm your heart knowing you are fundraising for some deserving families.
Lessons learned since first Plunge:
Don't listen to the crazy couple of guys that decide jumping in wasn't too bad so they go back for round two. Round two is much worse than round one.
---
THE POLAR PRO: Matt, Age 35
Number of Polar Plunges:
4
Plunge ensemble:
Usually just a regular swimsuit, but Speedos are pretty popular amongst most Polar Bears.
Longest time spent in the water after a plunge:
30 seconds, tops.
Lessons learned since first plunge:
Never wear flip-flops. Seriously. Your feet are so cold that you can't feel whether or not they're still on, and you'll inevitably lose them in the water and end up walking around on ice chunks.
Do you wait 30 minutes after eating before a plunge?
I never wait 30 minutes after eating before doing anything.
Best excuse for chickening out: lake-water allergy, or swim trunks eaten by an actual polar bear?
The lake water is questionable year-round so a sudden allergy seems suspect. I'd go with the polar bear. With the winter we've had so far, it's possible there might be some around!
---
THE NEWBIE: Kevin, Age 26
Number of Polar Plunges:
0
Reason for taking the plunge:
First and foremost, the two families. Second, [I've] wanted to do one for a long time and got more than 20 members from Anytime Fitness to participate.
Safety in numbers:
We are most looking forward to doing this as a group. Positive peer pressure in this instance will be awesome and make for an amazing event!
Plunge ensemble:
We plan on dressing crazy in either superhero costumes, short manly shorts, cutoff jean shorts, or other such fashionable attire.
Post-plunge goals:
To organize a plunge "across the pond" in Michigan City.
Advice from seasoned Polar Bears:
"Just jump in." No easy way about it.
---
THE CHAMP: Michael, Age 36
Number of Polar Plunges:
A handful of times over the years.
Longest time spent in the water after a plunge:
One year the lake was frozen, and we sat out on the ice. I was out there for about a half hour before Brian's [Marchal] mom, a registered nurse, made us come in. Another time it was over five minutes. Again, we were made to come in by Brian's mom.
Survival strategy:
I play paddle ball [in the water]. Takes your mind off of it.
Favorite way to warm up after a plunge:
Jameson.
Most triumphant plunge:
Back when we used to see who could stay in the longest, I had that dubious honor a couple of times.
---
THE SOCKLESS WONDER:
Grant, Age 28
Number of Polar Plunges:
3
Pre-plunge training:
Cold showers are way worse than the real plunge.
Plunge ensemble:
[I put on] lots of layers before the plunge to make sure I'm nice and toasty beforehand. That way, once I strip down, the breeze is actually more refreshing than painful.
Lessons learned since first plunge:
Shoes are required for the plunge, but socks are NOT. Having those sponges of icy water next to your feet and trying to take them off with numb fingers on the beach is significantly harder than just taking off shoes!
Best excuse for chickening out:
No excuses! Anyone can take the plunge and have a great time. The mix of people at the beach is incredible: old, young, fat, skinny, guys, gals, mustaches, clean-shaven, costumes, Speedos, capes, you name it. Everyone takes the plunge together and has an awesome time!
Photo courtesy of Lakeview Polar Bear Club.
BY: Emily Wachowiak
Guide Staff Writer
Emily Wachowiak is a Chicago-based writer and editor.
Charity & Grassroots Deals in Chicago