Moonshine Cocktails in Atlanta
BY: Broderick Smylie |
Oct 22, 2013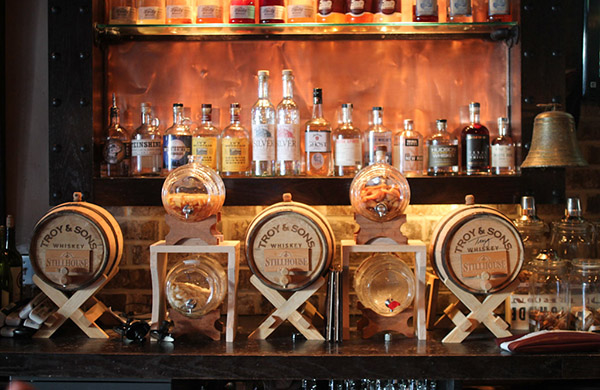 Moonshine is hot, as evidenced by its growing presence on package store shelves, reality television and restaurant drink menus. That isn't to say that the Southern liquor of choice, bourbon, is off the menu, it's just that it has a bit more company with its former tax evading partner in crime. Modern moonshine, or white whiskey, can come in many forms: clear or, increasingly, in fruit flavors. Many area restaurants choose to infuse their own fruit flavors into the moonshine and change them out seasonally. It may seem like a new fad, but
DBA Barbecue
 ( 1190 North Highland Ave NE  Atlanta, GA 30306, 404 249-5000) in Virginia Highland has had moonshine on the menu for years and has found that its properties pair well with smoked meats and fried foods that hold court on the menu. It also cuts through the rich sides that are made with love by the lovable Miss Bev - definitely try her creamed corn, a personal favorite of mine. Many of the spirits are made right here in the South including Ole Smoky in Tennessee, a spiced version made by Catdaddy in the Carolinas and Dawsonville's own moonshine made in the North Georgia Mountains. One surprising fact about Dawsonville Moonshine is that it's made under the same roof as city hall.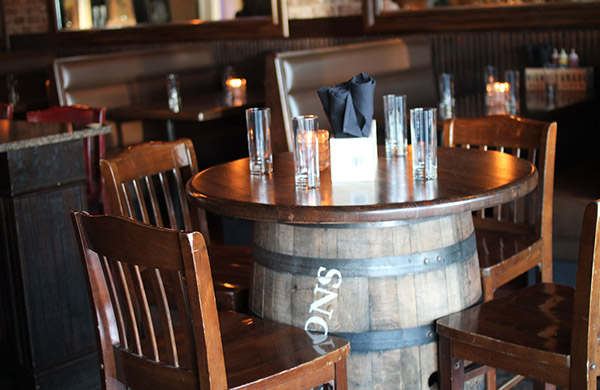 A newcomer to Buckhead's restaurant scene is
Stillhouse
( 56 E Andrews NW, Atlanta, GA 30305, (678-244-3601), whose concept and drink list is devoted to the clear spirit. You'll even find that moonshine barrels are a part of the furniture at this bar in the East Andrews complex, just across the way from another popular whiskey hangout, the clandestine Prohibition. Stillhouse offers many different types of whiskey but offers a relatively new product by Troy and Sons out of Asheville, NC. Troy and Sons use heirloom corn that gives it a distinct flavor that makes it perfect for mixing in cocktails or on its own neat. The gastropub doesn't limit the use of moonshine just to its cocktails, and uses the product to impart flavor into the cuisine as well. Diners can partake of Prince Edward Island mussels steamed in Troy and Sons Platinum moonshine. In addition to moonshine, the restaurants' burgers share the spotlight on the menu, including the popular Buckhead burger with two beef patties, duck confit, goat cheese, green tomato relish, pickled beets and fresh spinach. Wooden barrels line the rear of the bar for their barrel aged cocktail program with favorites including Bottle in a Barrel cocktail, and bargoers can even select from different woods to impart a smoky flavor into any bourbon, whiskey or moonshine cocktail of their choice.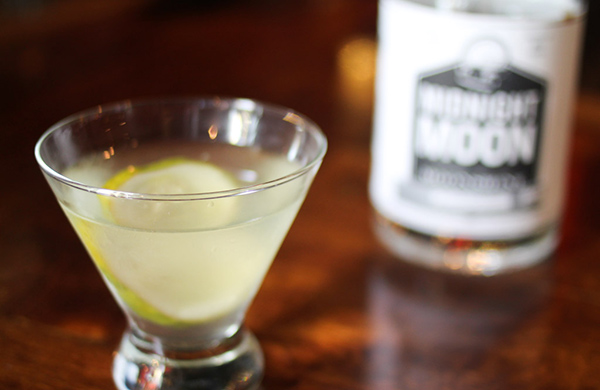 DBA has provided the recipe to their popular pickled moonshine martini that's had a spot on the menu for quite sometime and is easy to create at home:
Pickled Moonshine Martini
2.5 ounces Junior Johnson's Midnight Moon .25 ounces pickle juice Shake vigorously over ice, strain into a martini glass and garnish with a pickle slice
BY: Broderick Smylie
Broderick is an award-winning writer and photographer who loves delving into the food scene in Atlanta. He can be found at restaurants and food events around town, often with a camera in one hand and a tasty bite in the other. His popular blog Savory Exposure began in 2009 capturing images from a private tasting event and now documents the food and drink scene in Atlanta and beyond. Originally from Cleveland, Ohio, he's lived in the city for over 10 years and embraced the South and its food