Mariachi Musicians Explain How to Get Attention (or Be Ignored)
BY: CAROLYN ALTERIO | 1.28.2015 |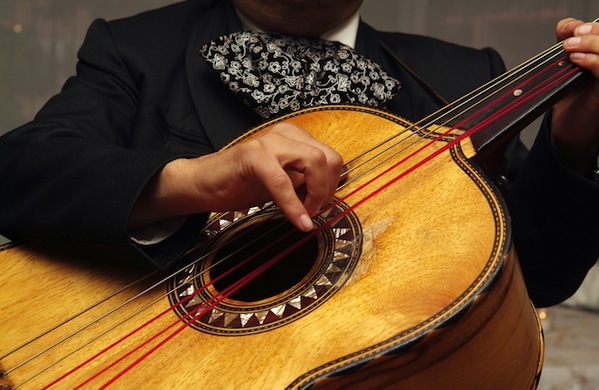 When dining at Mexican restaurants, you might come across mariachi—folk music with a big, lively sound and band outfits as loud as the instruments. Mariachi musicians rely on violins, trumpets, and guitars to play their signature songs, and often perform tableside for you and your fellow diners.
Like any dinner performance, a mariachi concert has its own brand of etiquette. Inexperienced listeners might wonder: Should I sing along? Am I expected to tip the band? Is this a bad time to start munching loudly on a chip?
We consulted a few mariachi—pro tip: the word can refer to the music, the band, or even a single player—on how to be good audience members. Here's what Miguel Cervantes, the musical director of Mariachi Ameca, and Raul Cervantes (no relation), a member of Mariachi Tequila, had to say.

How do I arrange for a band to visit my table?
Miguel Cervantes: You can always ask your waiter to send the mariachis your way. If that doesn't work, then ask one of the members in the band. If you still get no response, there's probably a big spender in the place hogging [them up].
Do bands typically take requests?
Raul Cervantes: Requests make it much easier for the mariachi! [Then there's] no guessing on what song to play for the table.
Is it impolite to eat, drink, or talk while the band performs?
MC: No, not at all. We are simply performing for your listening pleasure.
Can I sing along if I know the song?
MC: Absolutely. Clients have a better time when they get involved, and we get to rest our vocal chords.

RC: [Singing along] makes the moment even better.
What about dancing?
MC: If I see people dancing, then I know that I'm doing my job as a musician!
Should I tip? If so, when, and how much?
MC: If the restaurant owner pays for our services, [we don't] expect a tip. It would be the listeners' choice. There are, however, restaurant owners that do not like paying for extra services—that's where some mariachis rely solely on tips.

Before having the mariachi perform the first song, I would definitely ask if they are charging for their services. If the restaurant is paying them, they will usually say no, but [that] they do welcome tips. I've found that the standard price per song in Chicago is $20. That may seem high, but think about how much each member is getting paid if $20 is being divided up by 10 musicians.

RC: Tipping is fine, preferably after the performance. $20 per song [is standard]. Sometimes, small children like to give a dollar or two.
If I don't want to be disturbed, what's a polite way to get the band to bypass my table?
MC: A simple "no, thank you" would suffice.

RC: Just let them know before they get started! Once the mariachi starts the song, you'll have to wait.
Anything else I should know in order to enjoy mariachi music to the fullest?
MC: Just have fun!

RC: If you don't know what specific song to request, ask the band to play something happy, sad, romantic, traditional, or instrumental.
See more tips on being an awesome audience from the Guide: