Turns Out Going Through Someone's Closet Is a Great Conversation Starter
BY: Mae Rice |
Feb 6, 2014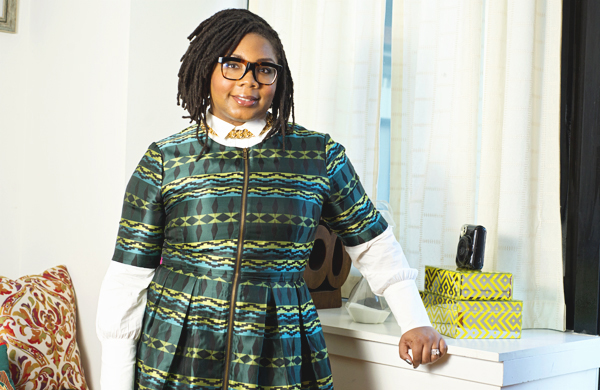 What style blogger and "Closet Conversations" host Nikia Jefferson has learned from peeking at the wardrobes of Chicago fashion leaders. (Don't worry, they knew she was there.)
Nikia Jefferson has seen some of the city's best closets—or, as was the case at Sally Schwartz's house, cave systems. "She wouldn't let us in her closet," Nikia says of the
Randolph Street Market
founder, "but at one point she was in there to pull out stuff, and it seemed like she was literally a block away. I think her closet is
so deep
…It was like echoing." Nikia took her first step toward Sally's closet five years ago, when she founded her style blog,
ChiTown Fashionista
. ("I guess I'm considered one of the OGs…of Chicago fashion bloggers at least," she says.) Inspired by London's weekly markets, Nikia wanted to shift the media spotlight to local indie designers and boutiques. Three years in, she went multimedia and started her web series,
"Closet Conversations."
The premise is simple: Nikia visits stylish Chicagoans in their homes, and they show her the chicest pieces in their closets. Along the way, they tell her stories about their families, their travels, and their style's evolution. So far, she has six episodes under her belt, starring locals such as
Redgi Woods
(the founder and designer behind
ReFINDefined
). I met up with Nikia to discuss the making of the series, and she shared highlights from the coolest gym bag she's ever seen to the celebrity she dreams of interviewing.
WHO HAS…
...the best take on Chicago winterwear?
Nikia has seen some cool details that elevate outerwear above pure functionality. Dwamina Drew, the designer behind
Enstrumental
, had some colorful hooded scarves (his term for them is "headpieces"; check out his 21 Maroons one at 3:51 in his
interview
). Autumn Meritt of
Sir & Madame
(938 N. Damen Ave.), meanwhile, had a cream belted cape in heavy wool—that she thrifted for $8.
...the best sporty, summery find?
A vintage Gucci tennis bag, handed down to Brian Merritt, co-owner of Sir & Madame, by his dad. It's so old-school that a modern tennis racket wouldn't fit in it. "I would carry that [bag] now," Nikia says. "Just because. Just carrying it to lunch at Panera."
...the goofiest outtake?
Flavia Borges, creator of
LuluAbroad.com
, has a strong Brazilian accent. So, while she was trying to describe a wide-brimmed hat as her
beach
hat…"It was sounding like 'bitch hat,'" Nikia recalls. Eventually, everyone on the shoot was laughing (including Flavia). She called it her "straw hat" in the final clip.
WHO IS...
...the most organized?
It's a tie between Eva Daiberl of
MissRenaissance.com
and Flavia. Eva keeps her shoes in square Ikea-style shelving, with one shoe in each pair facing forward, the other facing back, for an easily scannable shoe library. Flavia, meanwhile, hooks her earrings in picture frames inlaid with mesh, so they're easy to find and never get tangled up.
...her favorite designer to find in another person's closet?
Redgi Woods turned Nikia onto Patrick Kelly, a Paris-based American designer who passed away in 1990. He specialized in whimsical pieces, like jersey dresses with mismatched buttons and color-blocked maxi skirts (Nikia snapped one of these up at a warehouse sale). To check out some of his work in Chicago, head to the
Chicago History Museum
's
Inspiring Beauty: 50 Years of the Ebony Fashion Fair
exhibit. (See The Guide's article on the exhibit
here
.)
...her dream interviewee?
June Ambrose, a New York–based stylist with a baller
Instagram feed
. She's worked with celebrities from Jay-Z to Kelly Ripa, and any stylist like that has incredible access, "sometimes to stuff that doesn't even get released to the public." She also seems fun, especially when she's having
a noncompetitive dance-off with her son
.
BY: Mae Rice
Guide Staff Writer
Mae Rice is a staff writer who writes about eyelash extensions, French food, what "business casual" even means, and other style and food topics.