Poking around Pinterest for a 4th of July dessert, I got a sugar overload.  Patriotic sprinkles! Gobs of dyed frosting! When I saw these lovely cupcakes—not too sweet and garnished with blueberries—from Madison of Espresso and Cream, they felt like a breath of fresh air.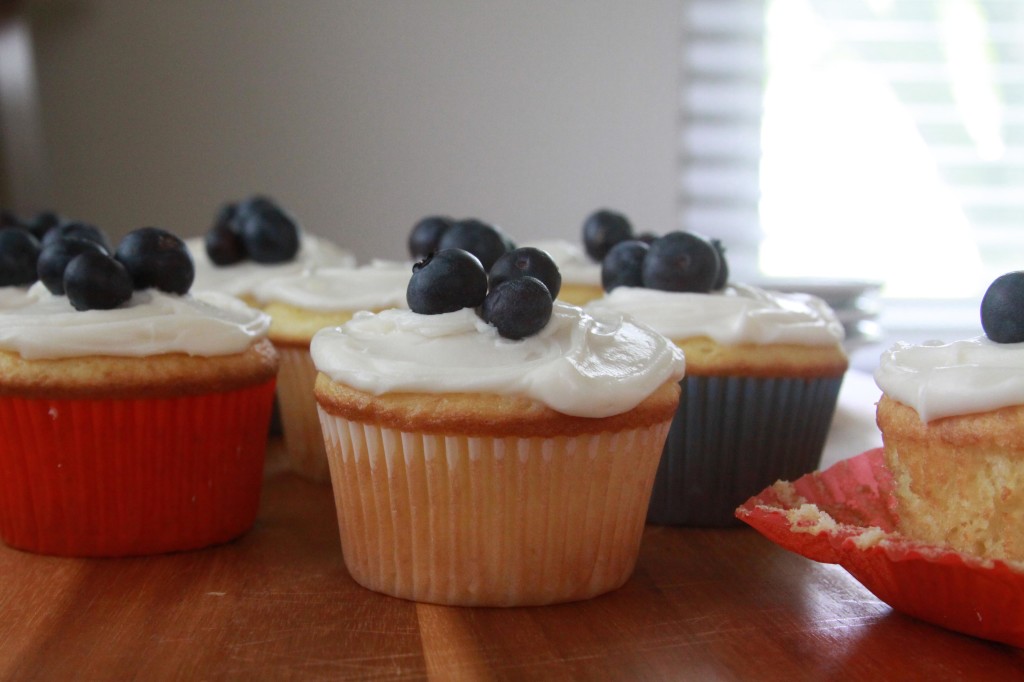 Madison graciously agreed to let me share the recipe with you all. So if you're looking for a treat for your picnic or backyard barbecue, give these a try; they're as easy to make as they are elegant. 4th of July Sour Cream Cupcakes from Espresso and Cream Serves: 18 Ingredients For the cupcakes:
1 box Betty Crocker SuperMoist white cake mix
1 box (3.9 oz) instant vanilla pudding mix
1 cup sour cream
¾ cup vegetable or canola oil
½ cup water
4 large eggs
1 teaspoon vanilla
For the frosting:
¼ cup sour cream
¼ cup (4 tablespoons) butter, softened
2½ cups powdered sugar
1 teaspoon vanilla
Milk (to thin if necessary)
For the garnish:
Instructions
Heat oven to 350°F. Line 18 standard-sized muffin tins with paper baking liners in red, white and blue colors, if desired. In the bowl of an electric mixer, combine all the cake ingredients. Mix 2 minutes on medium speed until well combined and batter is smooth. Divide batter between cupcake liners. Bake 16 to 18 minutes or until a toothpick inserted in the center comes out clean. Cool in pan 5 minutes. Transfer cupcakes to a wire cooling rack and cool completely, about 30 minutes. Meanwhile, prepare the frosting. In the bowl of an electric mixer, beat together the sour cream and butter until smooth. Add in the powdered sugar and vanilla and beat until well combined. Add 1 to 2 tablespoons milk to thin the frosting as needed. Frost cooled cupcakes with frosting. Top with fresh blueberries. Store leftover cupcakes in the refrigerator loosely covered with plastic wrap.