The Budget Bytes blog and cookbook by Beth Moncel are my go-to sources for delicious, cheap recipes. If you want to know why, look no further than this weeknight meal. It only costs about $5.91 to make the entire recipe, meant for four. Beth says this recipe is a reader favorite and graciously allowed me to share it with you all.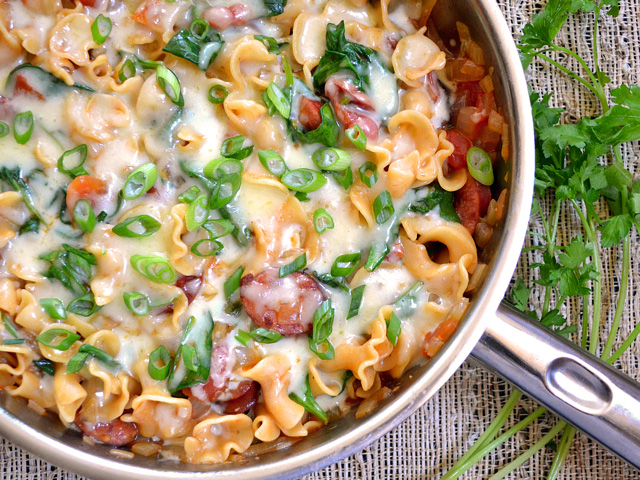 Ingredients
6 oz. smoked sausage $1.50
1 Tbsp olive oil $0.16
1 medium onion $0.32
1 (14.5 oz.) can diced tomatoes w/chiles $0.99
2 cups chicken broth $0.30
8 oz. pasta $0.50
3 cups fresh spinach $0.87
1 cup (4 oz.) shredded monterrey jack $1.17
1 whole green onion $0.10
 Instructions
Thinly slice the smoked sausage and add it to a large skillet with 1 tablespoon of olive oil. Saute the sausage over medium heat until it is nicely browned (about 5-7 minutes). Drain off the excess fat.
Dice the onion and add it to the skillet. Continue to saute until the onion has softened (about 5 minutes). Add the can of diced tomatoes with chiles and the chicken broth. Stir to combine and dissolve any browned bits off of the bottom of the skillet.
Add the uncooked pasta to the skillet and make sure it is all submerged under the liquid. Place a lid on the skillet and allow the mixture to come up to a boil. Once it reaches a boil, turn the heat down to low and let it simmer for about ten minutes, or until the pasta is tender. Stir once or twice while the pasta cooks to keep it from sticking.
Stir in the fresh spinach, one cup at a time, until wilted. If you add it all at once, the skillet will be too full to stir. Keep the heat on while adding the spinach, so the liquid will continue to simmer and thicken.
Sprinkle the shredded cheese on top, replace the lid, and let it sit for a few minutes, or until the cheese is melted. Slice the green onions and sprinkle them over top. Serve hot!
Check out the original recipe post, including step-by-step photos, 
here
.