As you head to your favorite sites to do your holiday shopping this Cyber Monday, don't forget to check out eBay. They offer big discounts on an array of gift items, helping you get something for everyone on your list. Here are a few popular choices: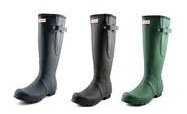 MSRP: $159.99 eBay price: $99.99
These iconic rain boots are a must for staying dry and stylish on cold, slushy days.

MSRP: $100 eBay price: $80
Give the gift of music to a loved one, even if you have no idea what their musical taste is. An iTunes gift card makes it easy.