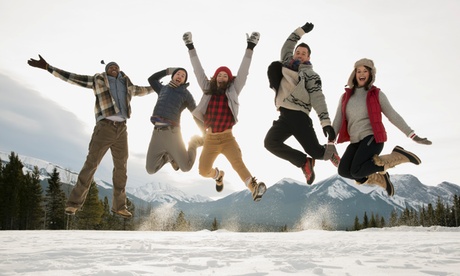 Once the warm glow of the holidays has worn off, we're left facing a few more months of cold, short days before the weather brightens. For some of us, these months are tough. But Norwegians have invented the concept of koselig (which translates roughly to "cozy") to not only make it through, but even enjoy winter. For Norwegians, the long winter is a time to revel in the type of comfortable warmth that can only be created at home when it's really, really cold outside. This involves making hot meals, sharing comfortable nights in, and flaunting woolens. Adopting koselig is just one way to work this weather in your favor, though, and we're glad to share a few other ideas.
Bring The Outside In
Putting a live plant in your work or living space can make a big difference when everything outside is covered in snow. Whether it's a colorful bouquet or a small plant that can live with you for years, adding some green indoors can go a long way.
If you're looking for something a little more semi-permanent, check out a local plants shop or a hardware store, like

Home Depot

, for a variety of specimens.

If you want a short-term boost with less responsibility, order a floral arrangement from a delivery service–we like

The Bouqs

–or a small flowering plant from a florist, such as

1-800-Flowers

.
Turn A Light On
Even though the shortest day of the year is behind us, sunlight is still in short supply for a few more months. Make sure your space is well-lit when you're at home to avoid creating a cave-like atmosphere more suitable for hibernation than celebration.
Consider adding small table lamps to surfaces around the house, such as book shelves or end tables, for soft lighting. Lamps of all sizes are available with

customizable lamp shades

at Target.

Some people report a lifted mood after using a light therapy device, such as a

light box

. By mimicking natural sunlight, the devices trick our brains into releasing beneficial chemicals to calm and soothe us. Light boxes are available at many major retailers, including

Amazon

; see their best-sellers

here

.
Throw A Party
Social isolation can amplify the negative vibes caused by winter blues. Inviting people over for a party is a great way to socialize without leaving the house. If you want to take it to the next level, suggest a theme, such as bright colors or tropical island.
To throw a bright-colors party, ask your guests to come dressed in a bright color. Serve food and drinks on

very bright paper or plastic plates

from Target. Bonus points for serving colorful snacks and beverages!

To throw a tropical-island party, ask everybody to wear their favorite summery or floral outfit. Serve warm-weather snacks, such as pineapple and mango or hot dogs. Accessorize with these fun tropical glasses from Spirit Halloween or colorful faux flowers.
Get Lost In Some Tunes
Whether you want to indulge your blue mood and listen to Miles Davis or trick yourself into thinking it's July with last summer's top hits, music can reset the tone.
Or, Finally, Get Out Of Town
Traveling for the holidays isn't quite the same as taking a vacation just for yourself. Between now and Spring Break, travel can be done on the cheap if you're flexible about dates and destinations.