Wars have been fought over wedding etiquette rules for guests. (Okay, they're online comment-board wars, but the carnage is real.) Is it OK to wear white? Can I show up to the ceremony uninvited? Am I contractually obligated to dance to the Cha Cha Slide?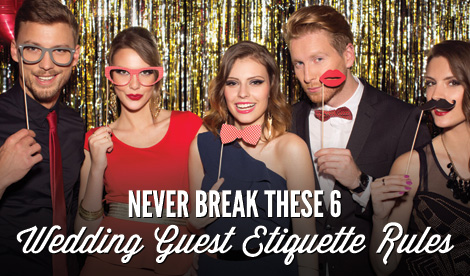 But at its heart, etiquette isn't about using the right fork; it's about helping people get along and show respect for one another. With that in mind, we've put together a guide to being an all-star wedding guest this summer. Keep these six rules as law.
1. Don't bring a gift to the wedding itself.
Let's be honest—if you break this rule, no one's going to be mad at you, because hey, you're bringing a gift! But it puts extra pressure on the wedding party to load up a vehicle with tons of presents, coordinate who's bringing them where, and make sure nothing gets stolen (a sad fact of life). So it's a thoughtful rule to keep.
Instead, mail your gift ahead of time. This is especially easy if you're ordering online; just have it sent straight to the couple. Many registries, including the one at Target, have the recipient's address saved in their system. It's totally fine to ask where they prefer to have gifts sent if you're unsure. And if you've waited 'til the last minute, stick with tucking a check inside a card. Cards are easy to transport, and checks protect against theft.
2. RSVP. Promptly.
I've broken this rule a shameful number of times, but when I got married, I realized how important it is. It's really, really stressful to hunt down responses weeks before your wedding.
Let's be honest, too—you usually know right away if you're going to be able to make it. So fill out the response card if one is included or follow the instructions to RSVP. No response card and no alternate instructions on the invite? This does not mean you don't have to respond. Au contraire! It's your big chance to break out that personalized stationery and write a note.
3. Only bring people who were invited.
Another thing I didn't know before I got married: making a guest list is a horrible experience. Every couple is different, every wedding is different, and every budget is different, but it's pretty much universal that the couple (and possibly their parents) stressed over the guest list.
Look at the envelope (or response card) and double-check who's actually being invited. Some couples offer the option to bring a guest or "+1;" others would prefer not to have strangers at their wedding. Some couples love having kids there; others would prefer you found a sitter. Of course, if your date or kids aren't invited and that's going to make it hard for you to attend, there's absolutely no shame in (politely) turning an invitation down.
In short: Respond based on who's actually invited. Don't write in an uninvited guest (passive-aggressive and awkward) or call to beg for an exception (regular-type aggressive and awkward).
4. Show up if you said you would.
It blows my mind how many people simply fail to show up to weddings. Of course, things come up and life happens. But if you RSVPed to a wedding, keep in mind that the couple has likely paid to feed you, figured out where you're going to sit, perhaps even painstakingly hand-printed your name on a favor or place card.
If an emergency does come up and you really can't make it at the last minute—a tropical storm has grounded all flights at the airport, you've been stricken with the Plague—be sure to send a note with an apology and an explanation.
5. Don't monopolize the couple's time.
The couple really does want to see you, talk with you, and dance with you. That's why you were invited! But they also want to see, talk, and dance with all of the other people they invited… plus, enjoy one another's company. Be conscious of their time (and whether they've gotten to eat a bite yet). Now is not the time for long-winded stories or showing off the vacation photos on your phone.
6. Enjoy yourself!
At the end of the day, your job as a wedding guest is to help the couple celebrate the start of their marriage. It's a fun job! So resist the temptation to start complaining if not all the details (or foods) are to your liking. Go with the flow and bring a positive, joyful attitude to their day.
Going to a wedding this summer? Check out our wedding deals page for ideas on what to wear and how to save on gifts.