With winter's shorter days, morning or evening workouts move into the dark. If you're one of those brave souls who refuses to let a lack of sunlight thwart a good calorie burn, it's important to be prepared for everything from bad drivers to creepy spiderwebs.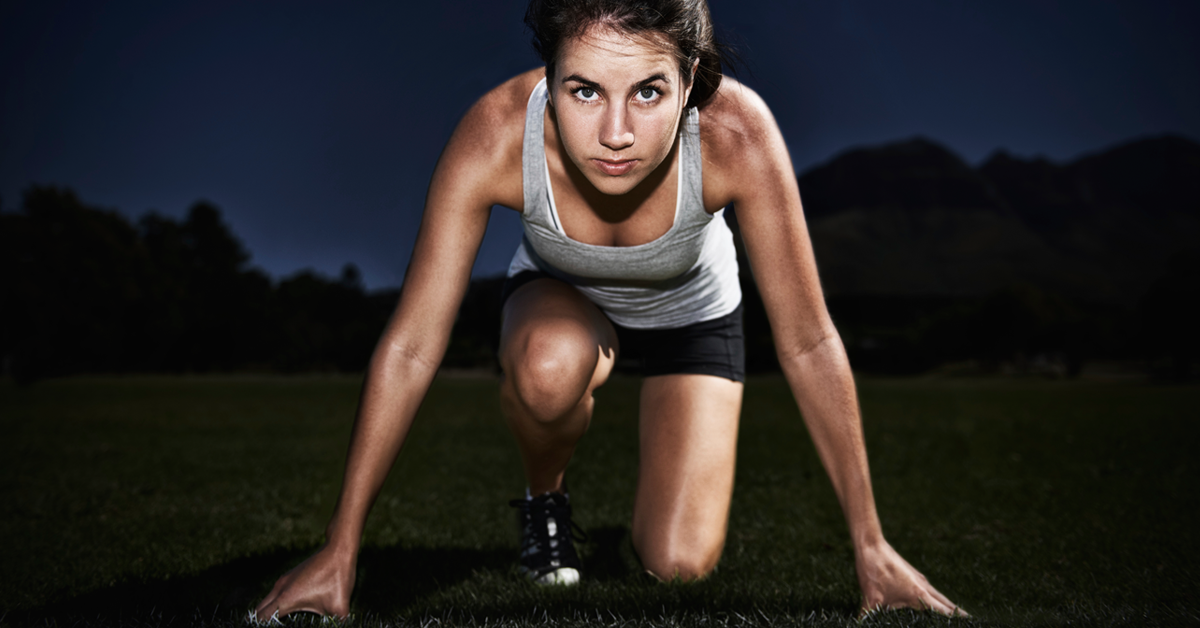 Here are six helpful tips I have either used or imagined using while under hypnosis. I hope they make your nighttime workouts safer (and perhaps even a little more fun, too). 1. Light up the night. You may have noticed that athletic wear often features bright, highlighter-inspired colors. This is because fitness apparel companies want to both embarrass you and keep you safe—like a good mom. But at night these glowing colors aren't enough to alert drivers to your presence. To up your visibility ante, try this reflective jacket from New Balance; it has 360-degree reflective trim and a water-resistant shell.
2. Go on the defensive. Pepper spray is often the first thing that comes to mind in the way of nonviolent self-defense products, but the laws about this tear-jerker vary from state-to-state, so be cautious before you make a purchase. If you'd rather just scare off an assailant, then Vigilant personal alarm might be just what you need. To activate it in an emergency situation, just grab the alarm and listen as its spring-loaded clip unleashes crime-deafening sounds. And the best part is, this device is legal in all 50 states and can even be carried on an airplane. 3. Accessorize for safety. If there ever is a problem, ID accessories make sure emergency personnel can reach your loved ones or access important medical information. The Yikes ID bracelet has a surgical stainless steel plate that can be engraved with your personal information, and the soft silicone band comes in seven colors. Alternatively, you can try the ICEdot ID bracelet. To make updating your info easier, ICEdot silicon bracelets come emblazoned with a personal identification number. This allows you to manage and update your information with your online account. EMTs can use your number to access your information and notify your loved ones via text, phone, and email. 4. Carry a cell phone—but don't wear earbuds. Being able to hear everything that's going on around you is probably the best thing you can do for both self-defense and preventing an accident. Plus, having a cellphone on you ensures that you can at least call for help if something goes awry. 5. Get gadgets. Texting and driving is bad enough. The last thing you want to do while out for a jog is glance at your phone repeatedly to check your stats. That's where devices like Fitbits and their ilk come in to play. Products like this wristband track everything from your heart rate to your sleeping patterns. And if you want to get fancy, you could also spring for the new Apple Watch and bring your workouts into the future. This new gadget also syncs with the Nike+ app for a seamless running experience. 6. Run with a buddy—human or canine. Working out with a friend, or even a group of friends, is often the best thing you can do to stay safe when you're out and about in the dark. But sometimes it's tough to get a group together, and on those nights your workout can be a good excuse to give Fido a bit of exercise, too. Dogs aren't always good at protecting you from bad guys, but they can be a visual deterrent to potential attackers. Plus, taking your canine companion along can often be a good reminder to stay safe, since he or she is counting on you. To that end, look for reflective leashes to keep you both visible.
Before you go out for that super-safe run, check out this curated list of health and fitness deals from Groupon Coupons.