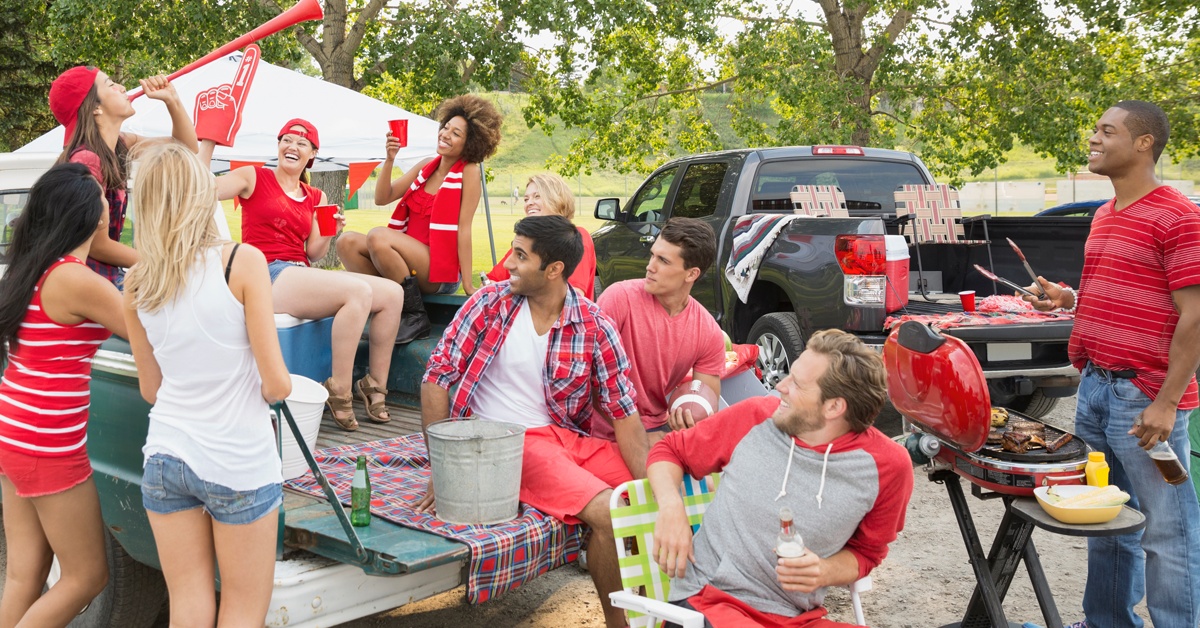 There's tailgating and then there's tailgating—creating a party atmosphere so steeped in fun that even rival fans will covet your parking spot. The game plan for achieving the latter is simple: great food + killer drinks + rousing games and tunes. Here are a few ways to make it happen (both on the cheap and as a splurge).
The Food
As the stomach is the key to every sports fan's heart, food should be the centerpiece of your tailgating operation. Start by choosing high-quality proteins—such as this
8-pack of filet mignon burgers
—and firing them up on your grill of choice.
Steal: 
Weber Smoky Joe Gold Portable Charcoal Grill
Splurge:
Weber Q 2400 Portable Electric Grill
Display your feast on 
sports-themed plates and napkins
, and make sure your friends have a comfortable place to sit.
The Drinks
A cooler full of ice and beer may have cut it in college—and okay, it still does now—but consider kicking it up a notch with frozen drinks or themed cocktails. Grab a blender, along with
barware
and some
fancy glasses
, and get creative with some sports-themed libations—like 
Miami Dolphins Tears
 (pretty much anything mixed with blue curacao).
Steal: 
Waring TG15 Tailgating Blender
Splurge: 
The "Extreme" Daiquiri Whacker
The Games & Music
There's nothing like a bit of friendly competition to get the good times flowing. Pick up a package of red Solo cups and your favorite brew to start a game of flippy cup, or consider classic pastimes like 
cornhole
or
ladderBall
. You can also enliven the mood by blasting your favorite tunes through a set of speakers. Here are a few options:
Steal: 
Axess Portable Bluetooth Indoor/Outdoor Speaker
Splurge:
Ion Audio Tailgate Portable Bluetooth Speaker System
Have fun, and remember to check your stadium's tailgating rules before heading out to the game!
For more deals on pre-game shenanigans, check out our Tailgating occasions page.