Choice of:
Three Groupons: One 24-Hour Bike Pass Each
Five Groupons: One 24-Hour Bike Pass Each
One-Year "Gear" Membership. Includes:
One year of unlimited 30-minute bike trips
Five 24-hour passes to share with family and friends
Discounts at bike shops and other local businesses
Divvy
Divvy Divvy's blue-painted cycles are specially designed, heavy-duty, durable bikes that help riders find their wheels across Chicagoland. There are currently more than 5,800 of them cruising the streets and parked at 580+ solar-powered, touch-screen-equipped stations, which make up this highly popular bike-share program.
Getting in on the action is simple, as Divvy is available 24 hours a day, 365 days a year. Purchasing a 24-hour pass or an annual membership lets you unlock any bike at any Divvy station. After adjusting its seat to fit your height , it's ready to take for a ride—perhaps along the Lakefront Trail, to work, or on an adventure with friends. If your trip lasts less than 30 minutes, you won't pay anything extra. For longer jaunts, you can pay a usage fee or just re-dock your bike at any station and take out another one. (The system has twice as many docking spots as bikes, so you shouldn't have trouble finding a parking space.)
The cheery blue bikes themselves are designed for smooth city riding. An internal gear system means there's no chain to snag pant legs or skirt hems, and a front rack relieves shoulders of purses and bags. Flashing front and rear lights and a bell ensure that other road and path users know that you're rolling through.
---
Groupon Guide to Chicago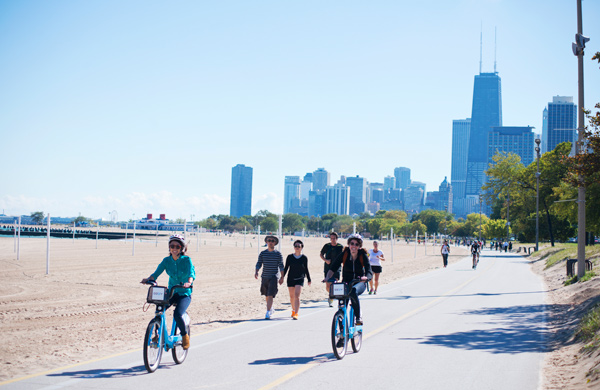 A First-Timer's Guide to Divvy Biking
Most Divvy rides go smoothly, but sometimes you'll hit a bump along the way. Be prepared with these tips and tricks for bike-share newbies.
Customer Reviews
I was skeptical about Divvy, but when I saw they had a Groupon, I decided to try it out. I'm hooked - it's so convenient! I even got a friend to sign up!
It's winter and I've already used my membership at least 12 times. Everything just got more efficient in my life, yayyy.
Sandra K.
·
March 3, 2017
Very convenient, bikes always solid and clean, readily available. Like the handy rack to hold things on the front.
Alyce F.
·
February 22, 2017