Product Details
---
This product may not arrive by December 25. If this is a must-have gift, let them know it's on the way with a self-printed card available under "My Groupons" after purchase.
1 CTTW Diamond Bridal Ring in 10K White Gold
Stone type: diamond
Total number of stones: 24
Total carat weight: 1 CTTW
Color: I-J
Shape: round
Cut: good
Clarity: I2
Stone treatment: genuine
Metal: 10K white gold
Finish: polished
Product dimensions: 1.01" x 0.81" x 0.24"
Ring size: 7
Certified diamond products ship with an individual quality certification issued by a third-party gemological laboratory that provides a general product assurance as per the quality range stated
This item requires an extra 5 days delivery in order to complete the certification process; certificates will be shipped with the product in a sealed package for quality control purposes
---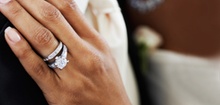 Diamond Buying Guide
Understand a diamond's most important characteristics, so you're confident in the quality and value of your selection.
---
For questions pertaining to this deal, click the Ask a Question button below. For post-purchase inquiries, please contact Groupon customer support.

Goods sold by Groupon Goods. View the Groupon Goods FAQ to learn more.
The Fine Print
---
Most orders are delivered within 7 business days from the purchase date. Shipping questions?
Ships within Canada only
Price includes all duty and excise taxes. Applicable GST/HST tax added at checkout
Customer Reviews
---
100% Verified Reviews
All reviews are from people who have redeemed deals with this merchant.