Product Details
---
2.50 or 2.75 CTW Round Certified Diamond Solitaire Ring in 18K White or Yellow Gold by Diamond Affection
Solitaire diamond ring
Total carat weight: 2.75 or 2.50 carats
Shape: round
Cut: full
Color: I2
Clarity: H–I
18K shank with 14K white gold four prong head
Cathedral shank mounting
18K white gold
Polished finish
Approximate ring dimensions: 0.31" (L) x 0.31" (W) x 0.37" (D)
Includes gift box
Certified diamond products ship with an individual quality certification issued by a third-party gemological laboratory that provides a general product assurance as per the quality range stated.
View proof of certification here *This item requires an extra 5 days delivery in order to complete the certification process.
---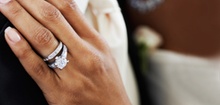 Diamond Buying Guide
Understand a diamond's most important characteristics, so you're confident in the quality and value of your selection.
---
For questions pertaining to this deal, click the Ask a Question button below. For post-purchase inquiries, please contact Groupon customer support.

Goods sold by Groupon Goods. View the Groupon Goods FAQ to learn more.
The Fine Print
---
Per person: 1 Free shipping: N Ships within Canada only Shipping timeframe: 12 days Final Sale: N Price includes all duty and excise taxes. Applicable GST/HST tax added at checkout. How is the strike-through price determined?