The Deal
One G-Pass to see Counting Crows: Somewhere Under Wonderland Tour with Twin Forks
When: Wednesday, December 10, at 7:30 p.m.
Where: Louisville Palace
Door time: 6:30 p.m.
Full offer value includes ticketing fees
Seating Options
$25 for rows F–Q of balcony sections 1–4 (up to $52 value)
$30 for rows X–NN of orchestra section 1 or 4 (up to $58 value)
How G-Pass Works: Your G-Pass will be ready to print 48 hours after the deal ends. Print the G-Pass and use it to enter the venue directly; you won't need to redeem at will call. Due to security restrictions, G-Passes cannot be redeemed through the Groupon mobile app. Discount reflects the merchant's current ticket prices - price may differ on day of event.
Counting Crows
Counting Crows song you definitely know by heart: "Mr. Jones"
Where you've heard it: on the car radio, on the jukebox, and on your cassette tape of August and Everything After, their debut album
That album's greatest distinctions: it was certified platinum seven times in both the U.S. and Canada; it spawned the hits "Omaha," "'Round Here," and "Rain King"
Lead track off Somewhere Under Wonderland, their first album of new material in six years: "Palisades Park," an eight-minute epic released with an accompanying short film. Watch the video here.
How they tell the story: with jangling guitar, free-form piano, and Adam Duritz's powerfully evocative vocals
How critics feel about the album: Craig Manning of Absolute Punk said, "As far as I was concerned, there was nothing these guys could ever do again that would recapture the sublimely personal connection I have with their first four albums . . . It is the deepest compliment that I can pay to Somewhere Under Wonderland to say that I was wrong."
Twin Forks
Why the lead singer of Twin Forks looks familiar: Chris Carrabba also heads up Dashboard Confessional and Further Seems Forever
How this band sets itself apart from those: with folksy, old-fashioned country music sung by both Carrabba and mandolin-player Suzie Zeldin
Their debut LP: 2014's Twin Forks, which features the sunny, whistle-along "Cross My Mind"
Groupon Guide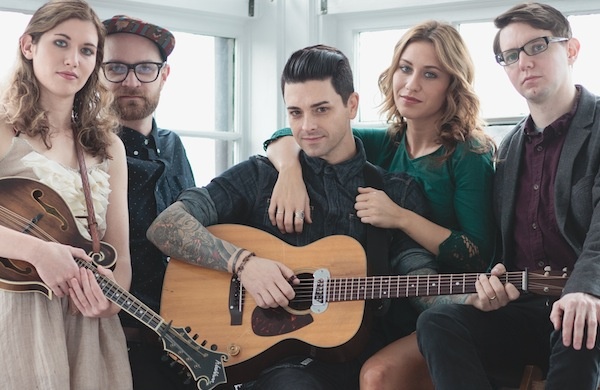 Chris Carrabba of Twin Forks Picks His Favorite Soundtrack Songs
A veteran to movie soundtracks, the Twin Forks frontman gave us a list of his top musical moments from film.
The Louisville Palace
Audiences enjoy cultural euphony amid the Spanish baroque themes of The Louisville Palace. In the lobby, a vaulted ceiling sculpted with historical faces looms above columns swirling with flashes of cobalt and crimson. Once inside, patrons can marvel at the deep-scarlet proscenium or gaze at the simulated night sky above.