What You'll Get
---
The Deal
One G-Pass to Moscow Ballet's Great Russian Nutcracker
When: Tuesday, December 16, at 7 p.m.
Where: The Oncenter
Door time: 6 p.m.
Ticket values include all fees.
Purchase Options
$35 for balcony seating and one DVD (up to $71.55 value)
$49 for rear orchestra or rear mezzanine seating, and one nutcracker (up to $98.05 value)
$71 for front orchestra or front mezzanine seating, one nutcracker, and one DVD (up to $143.05 value)
How G-Pass Works: Your G-Pass will be ready to print 48 hours after the deal ends. Print the G-Pass and use it to enter the venue directly; you won't need to redeem at will call. Due to security restrictions, G-Passes cannot be redeemed through the mobile app. Discount reflects the merchant's current ticket prices - price may differ on day of event.
Moscow Ballet's Great Russian Nutcracker
The spirit of Tchaikovsky guides Moscow Ballet's professional ballerinas as they leap and pirouette against hand-painted backgrounds that invigorate his spirited score in time for the holiday season. Great Russian Nutcracker reintroduces audiences of all ages to young Masha, whose taste for adventure rivals her magical wooden doll's legendary aversion to chestnuts. Dancers fling themselves across the stage in grand jetés as the curtain opens on Moscow's iconic skyline, which gives way to a spooky dreamland as the Mouse King rears his fuzzy head to stir up mischief. Audiences gasp as legions of mice capture Masha's strong-jawed companion and carry him away, past a lavishly decorated Christmas tree that soars toward the ceiling, and through their fellow dancers, who do not grow taller in the same way. The ensuing battle ushers the action into the enchanted Land of Peace and Harmony in the ballet's second act.
Russian designer Valentin Fedorov's 3-D backdrops pay homage to the snowy forests of his homeland, and the puppets that dance alongside the ballerinas nod to the mysterious felt creatures that roam the foothills of Siberia. Moscow Ballet selects its soloists from Moscow's finest crop of dancers, and local children can audition to join the corps for one city, earning the chance to twirl their little feet with the company in walk-on roles. 
Deal Guide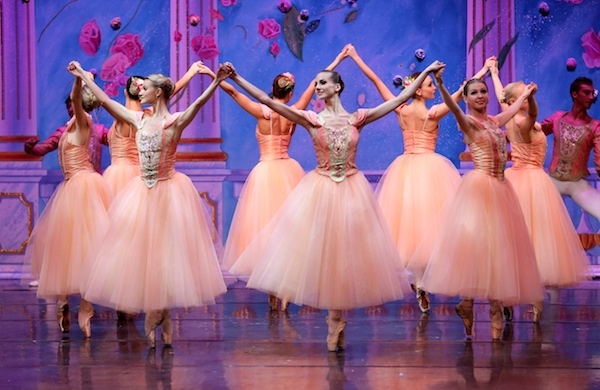 A Dancer Tells Us How to Prepare for a Night at the Ballet
A Moscow Ballet veteran schools us on proper etiquette when attending the ballet.
The Fine Print
---
Promotional value expires Dec 16, 2014. Limit 8 per person. Valid only for option purchased. Use for admission at The Oncenter on 12/16. Refundable only on day of purchase. Must purchase together to sit together. Doors open 1 hour before showtime. Merchant reserves the right to substitute closer seat assignment. For ADA accommodations, call the box office immediately after purchase - availability is limited. Holder assumes all risk in connection with the event and releases Groupon and its affiliates, Ticketmaster, the venue and their affiliates from any related claims. Not redeemable on mobile app. Merchant is solely responsible to purchasers for the care and quality of the advertised goods and services.
About Moscow Ballet's
---