Highlights
Kids can search for colorful Easter eggs filled with treasures, explore the Bunny House, and discover the farm playground
Groupon Customer Reviews
100% Verified Reviews
All Groupon reviews are from people who have redeemed deals with this merchant. Review requests are sent by email to customers who purchased the deal.
Error submitting request
Thank you for your response
About This Deal
Join us at the farm for Brooklyn's favorite Easter Egg Hunt, together with Whiskers, the Easter Bunny, and all his friends. Kids can search for colorful Easter eggs filled with treasures, explore the Bunny House, and discover the farm playground.

✿ Easter egg hunt
✿ A picture with Whiskers The Easter Bunny
✿ Visit the bunny barn
✿ Happy hayride
✿ Visit alpacas | llamas | sheep | goats | pigs | rabbits | ponies
✿ Bumpy roller slide
✿ Ten different tractors for the kids to sit on
✿ Milk Katie, The Talking Cow
✿ Operate a bulldozer
✿ Flower barns for photos
✿ Huge farm playground
✿ Plenty of picnic tables

⇨ Free admission for children younger than 2 years ⇦


✿ ✿ ✿
If you think you wouldn't have enough fun already, for a little fee you can feed the farm animals or bring your own basket and enjoy a true egg hunt.


✿ Where and When ✿

✿ Aviator Sports & Events Center, Brooklyn
✿ April 01, 02, 07, 08, 10, 15, and 16 between 11 a.m. – 5 p.m.


✿ Need to Know ✿

✿ Please bring a printed voucher for faster entry into the event
✿ Not valid on Easter Sunday, April 9


Fine Print
Promotional value expires Apr 17, 2023. Amount paid never expires.

⌚ Valid days and hours: April 01, 02, 07, 08, 10, 15, and 16, 11 a.m. – 5 p.m. Not valid on Easter Sunday (04/09/2023).
☎ Booking: No booking required; present Groupon on arrival. Must bring a paper ticket for faster entry into the event.
✘ Restrictions: Extra charges apply for baskets and animal feed. Valid only for option purchased.

Merchant is solely responsible to purchasers for the care and quality of the advertised goods and services.
Learn about Strike-Through Pricing and Savings
About ✿ Green Meadows Farm Brooklyn ✿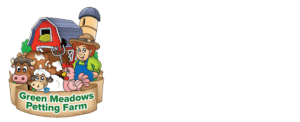 Located at Aviator Sports & Events Center, Green Meadows Farm Brooklyn offers a welcome reprieve from big city life. The farm holds a range of family-friendly events, from annual Easter egg hunts to school field trips with a hands-on approach to learning. During their visits, kids can meet the farm animals including alpacas, llamas, and ponies, as well as sheep, goats, pigs, and Milk Katie - the talking cow. Attractions also include a huge farm playground and ten different tractors for kids to sit on. In addition, guests can take family selfies in various holiday or seasonal settings, and enjoy some picnic time under the shade trees.