Top Product Reviews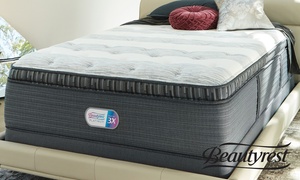 Amazing service. My mattress got delivered in a week and it was so easy to set up the time of delivery. The entire process was so seamless and the communication was great. I got my two hour window the day prior to delivery and they called ten minutes before and showed up exactly on the dot. Highly recommend just for the ease of delivery. The mattress itself is incredible and so comfortable.
About Beautyrest
Industrialist Zalmon Gilbert Simmons spent the early 1800's productively, dabbling in banking, railroads, a telegraph company, and even serving as Mayor of Kenosha, Wisconsin. Then, he took his first nap and gained an appreciation for a woven wire mattress. Equipped with a machine that could mass-produce them, his company began shipping them around the country from a small Kenosha factory.
For the next 140 years, Simmons has enabled the solid rest and sweet dreams of the glitterati. Amidst fluffy clouds, Presidents nap on a Simmons aboard Air Force One. In the Lincoln Bedroom, dignitaries look for the complimentary mint left atop their Simmons. Henry Ford and H.G. Wells snuggled, separately, on Simmonses. Cole Porter worked the name into his Broadway hit "Anything Goes." To ensure that so many heads—famous and not—enjoy a restful night's sleep, Simmons innovates, creating the first no-flip mattress and enhancing their high-performance coils with layers of memory foam.