Top Product Reviews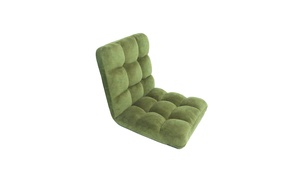 Major issues ordering this chair, but it was worth the stress. My kids love this chair.
Shop New Furniture Every Day on Groupon
An unmistakable sign of becoming a grownup: you have to buy the furniture
for your home
instead of getting those beaten-up plaid cast-offs from your parents' basement. Luckily, Groupon makes the daunting task of shopping for home furnishings easier by breaking it down into room-sized bits. Just use the left-hand navigation bar to narrow down the room you're shopping for. If you need a TV and media console, click on
living room furniture
. If you're in the market for a vintage-looking bar cart, look under
accent furniture
.
For Sitting
Sitting on your home furniture is usually much more comfortable than either standing or sitting on the floor. That's why we supply comfy couches and and armchairs for watching TV and upholstered chairs around the
dining room
table. Specially designed ergonomic
office furniture
can also be a smart health investment for those long hours we spend
watching online videos
working.
For Sleeping
If you want to get your standard seven or eight hours of slumber per night, you should be comfortable. Keep cozy with Groupon's ever-updating selection of
bedroom
pieces. Think headboards and frames that serve as the foundation for your
mattress
, as well as dressers and bedside tables.
For Storage
Face it: you have a lot of stuff, and it all has to go somewhere. And whether you need to
organize a closet
or store the cushions for your
patio furniture
, a variety of pieces are built with de-cluttering in mind. Hollowed-out ottomans, for example, hide remotes and Sudoku books from view, while shelving units can turn your favorite items into decorations when they're not in use.
For the Kids
Unfortunately, furniture is not a one-size-fits-all endeavor.
Babies and kids
have their own needs. Tables and chairs that are built lower to the ground for drawing and coloring. Accessible organizers and storage for toys and clothes. Groupon sets aside a corner of its inventory for such pint-sized home furnishings, stocking it each day with new bookshelves, racks, and stepstools.