Top Product Reviews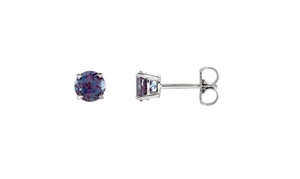 Alexandrite is my birthstone and I know how expensive it is. Buying jewelry for my wife and daughter is something I enjoy doing. When I saw how inexpensive some of the clearance items were, I didn't hesitate to touch the "purchase" portion of the screen. The earrings didn't disappoint. The stones sparkle and change color in the sunlight just as expected. Thank you.
Shop Gemstone and Pearl Earrings Every Day on Groupon
A pair of pearl or gemstone earrings can make the difference between a good outfit and a great one. A pair of pearl earrings adds a dash prep-school-inspired elegance style to polos and sweaters, and can be worn with other
gemstone jewelry
pieces without overwhelming your outfit. Amethyst earrings or chunky ruby earrings can add bold, eye-catching style to cocktail
dresses
and LBDs that would otherwise look sparse and unfinished. So if you're looking to improve your
jewelry
game, be sure to peruse Groupon's deals on these and other gemstone earrings.
Keep it Classy with Pearls
Pearl earrings are nothing if not understated and elegant. And while the classic round, white studs remain a wardrobe staple, there are now dozens of other, more colorful pearls to add to your jewelry box. For example, black pearl earrings provide a bold, rock-n-roll inspired twist on the classic accessories. And if you
look good in a particular color
like pink, blue, or green, be sure to pick out a pair of pearls in that same hue.
Curate Your Own Personal Style with Gemstones
When
deciding what type of jewelry to wear
, gemstone earrings are always a good choice. When
picking out a piece of gemstone jewelry
, allow your personal taste and character to shine through. Love the glamorous style of old Hollywood? Try a pair of dangling amethyst earrings or bright-red ruby earrings. Is your birthday your favorite day of the year? Let everyone know with a pair of birthstone earrings. Want to create an eye-catching cocktail ensemble? Wear your favorite
LBD
with a pair of fiery opal earrings. Prefer a more cohesive look? Pair your favorite gemstone earrings with a matching
bracelet
or
necklace
.